Like so many organizations, we are looking for creative ways to continue to bring you our programming. Delivery of our latest issue of our periodical Judicial Notice is delayed in reaching your doorstep by mail. To fill the gap, we are presenting to you today a preview article from the latest Judicial Notice — Elihu Root: Nobel Peace Prize Recipient and Manhattan Real Estate Pioneer.
Society friend Robert Pigott continues in theme of Gilded Age New York lawyers who also served the nation in high government office — a theme he began with his Judicial Notice article on William Evarts. This time, he writes about renowned statesman-lawyer Elihu Root. In a somewhat tongue-in-cheek tone focusing on the location of Root's residences and law firms, Pigott paints a picture of Root's New York career and public activities during the Gilded Age.
The discussion of Root's pioneering mansion on Park Avenue and bold (for his station in society) abandonment of that mansion for new-fangled apartment living might seem intended for the Manhattan realtor. But Pigott uses these superficial aspects of Root's life to illustrate the public career of a great New Yorker in the largely defunct tradition of lawyers shuttling back and forth from Wall Street to Washington in service of their country.
As our Editor-in-Chief, Hon. Helen E. Freedman writes in her letter to members,
New York lawyers have played a prominent role in both the legal and political life of the United States since its birth as a nation. Along with Root, the new edition features two other lawyers who achieved national prominence and one whose reputation as a great trial lawyer remained unsullied despite the criminal proceedings brought against him by the United States government.
Who are these lawyers? Each week we will be previewing a new article by one of our authors for you to look forward to.
---
With more time on your hands, after finishing Bob Pigott's fine article, you can further overcome social distancing by joining Bob in learning more about New York places and their connections to high-profile attorneys. He's written and spoken extensively for the Society under the umbrella of this theme.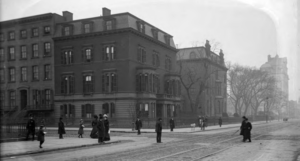 WATCH: Historical Presentation from Richmond County Courthouse Centennial: Its History, Cases, & Place in the Civic Life of Staten Island
WATCH: From City Hall Park to Foley Square: Government Buildings Take a Step Uptown in History of Foley Square: New York Legal Landmarks & Civic Reform
WATCH: New York Legal Landmarks in A Tour of Our Beautiful Courthouses: Preserving, Protecting and Defending Them
Remember that Judicial Notice is a members-exclusive! Make sure to join or renew your membership to receive your copy.


Join or Renew Your Membership