We have several resources available on our own website.
Historical Society of the New York Courts Blog
Our blog is full of information about past Society events and historical essays. We update it consistently, and the more informal tone provides a great entry point into legal concepts
Judicial Notice
The Society's scholarship publication Judicial Notice features articles written by legal history enthusiasts, including practicing lawyers, judges, and legal historians. These articles cover a variety of topics from important New York court cases to profiles of Court of Appeals Judges to firsts in New York legal history.
Legal History by Era
Broken down into particular time periods, Legal History by Era features profiles of important figures, courts, and court cases, while providing contextual information about the era. We also have primary source documents throughout these sections.
Past Events
We feature videos of our past events online. These programs include lectures, panel discussions, and performances we have sponsored. The majority of our programs can be streamed in the classroom!
We also have a list of suggested programs organized by age-group and course available here!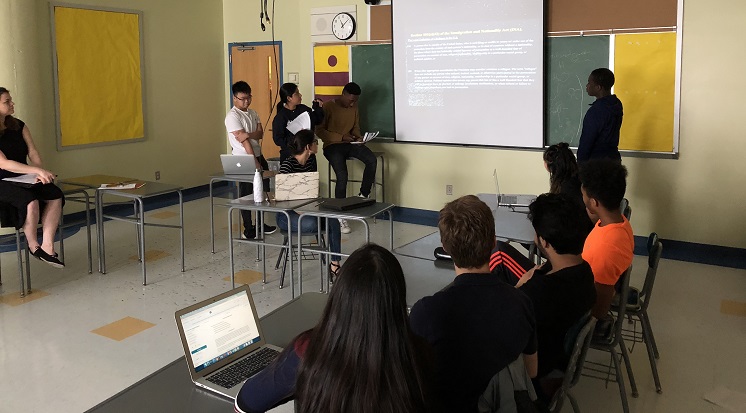 Our education partners, and even some parents (and grandparents!) have helped us produce a list of additional resources with more curriculum, activities, and supplemental information to enrich teaching in the classroom.
Annenberg Classroom
The Leonore Annenberg Institute for Civics created Annenberg Classroom to provide educators with resources related to the Constitution, Congress, Presidency, and the Courts, including videos, games, and timelines.

Bill of Rights Institute
The Bill of Rights Institute features many free lesson plans for educators with themes that include Presidents and the Constitution, Landmark Supreme Court Cases, and the Federalist and Anti-Federalist Papers.
Federal Judicial Center
The Federal Judicial Center provides background information, teaching activities, and discussion ideas for major federal court cases.
The Gilder Lehrman Institute of American History
The Gilder Lehrman Institute of American History organizes American history by era and by theme with a variety of essays, primary source documents, presentations, and lesson plans for educators' use.
iCivics
iCivics has lesson plans, games, and materials for helping students become better writers on a variety of topics, including the Constitution, state and local government, and the judicial branch.
National Endowment for the Humanities: EDSITEment!
The National Endowment for the Humanities' EDSITEment! features lesson plans that break down the learning objectives, activities, and the skills students will use during the unit. Educators can search by grade level, subtopics, and number of class periods the lesson takes to complete. The lesson plans cover topics in United States and world histories.
National Paralegal College: Constitutional Law & Criminal Procedure
This resource features a breakdown of key principles and cases relating to constitutional law and criminal procedure. It defines important terms and provides examples to help facilitate learning.
Stanford History Education Group: Reading Like a Historian
Stanford History Education Group's Reading Like a Historian incorporates lesson plans with comments from teachers who utilized the ideas into their classroom. These educators discuss what worked, what didn't work, and how they adapted the guides to meet the needs of their students.
Street Law
Street Law has created a resource library full of case summaries, articles, mock trials, and other teaching activities. Their database is searchable by categories, including subject, audience, and topic.
The Supreme Court Historical Society
Our partner, the Supreme Court Historical Society, provides a history of the Supreme Court and how it works along with a learning center that houses lesson plans and textbooks.
Teaching American History
Not only does Teaching American History have lesson plans, but it also incorporates professional development for educators. There are primary source documents, webinars, and even an online graduate program specifically geared toward Social Studies teachers.
Civics Renewal Network
The Civics Renewal Network is an alliance of a variety of civics-related non-profits, each providing different classroom-related materials. This Partners page lists a variety of member organizations with many more resources than the ones we've covered above.
Sometimes the best resource can be speaking with someone who works for the courts. You can find more information here.