Over the years, certain worthy topics have developed into books. We started with an important biographical compilation of all Judges who have sat on our High Court; looked at courthouses across the State; returned to our Dutch roots for the beginnings of NYS jurisprudence; and the memoirs of our founder, Former Chief Judge Judith S. Kaye.



Judith S. Kaye In Her Own Words: Reflections on Life and the Law, with Selected Judicial Opinions and Articles
Written by Hon. Judith S. Kaye
Edited by Henry M. Greenberg, Luisa M. Kaye, Marilyn Marcus & Hon. Albert M. Rosenblatt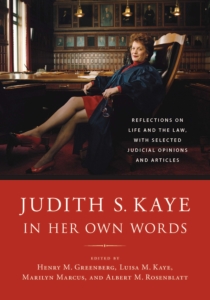 An autobiography and selected writings by the former Chief Judge of New York's highest court, the Court of Appeals.
In 1983, Judith S. Kaye (1938–2016) became the first woman appointed to the Court of Appeals, New York's highest court. Ten years later, she became the first woman to be appointed chief judge of the court, and by the time she retired, in 2008, she was the longest-serving chief judge in the court's history. During her long career, she distinguished herself as a lawyer, jurist, reformer, mentor, and colleague, as well as a wife and mother. Bringing together Kaye's own autobiography, completed shortly before her death, as well as selected judicial opinions, articles, and speeches, Judith S. Kaye in Her Own Words makes clear why she left such an enduring mark upon the court, the nation, and all who knew her.
The first section of the book, Kaye's memoir, focuses primarily on her years on the Court of Appeals, the inner workings of the court, and the challenges she faced, as chief judge, in managing a court system populated by hundreds of judges and thousands of employees.
The second section, a carefully chosen selection of her written opinions (and occasional dissents), reveals how she guided the law in New York State for almost a quarter century with uncommon vision and humanity. Her decisions cover every facet of New York and federal law and have often been quoted and followed nationally.
The final section of the book includes selections from her numerous articles and speeches, which cover the field, from common law jurisprudence to commercial law to constitutional analysis, all with an eye to the future and, above all, how the law can best affect the everyday lives of people who come to court—willingly or unwillingly—including, not least, those most in need of the law.
---
New York's Legal Landmarks: A Guide to Legal Edifices, Institutions, Lore, History and Curiosities on the City's Streets Second Edition
by Robert Pigott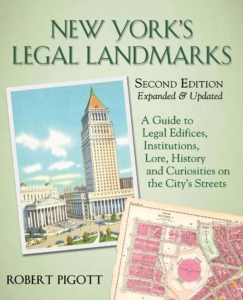 New York's Legal Landmarks takes you on a tour of Gotham through the eyes of a history-loving New York City lawyer. You'll visit courthouses past and present that were sites of sensational trials (both actual and in film), locations that figured in the nation's constitutional history, law firms where great Americans practiced law and the homes, schools and final resting places of Supreme Court Justices. Whether you want to stroll down the Lower East Side's Attorney Street or re-open the cold case of Judge Crater's disappearance, New York's Legal Landmarks is the guidebook for you.
New in the Second Edition
With over 50 pages added, the second edition incorporates a number of additional New York City locations of events in legal history, both significant and quirky, including:
A tenement on Second Avenue called "The U.S. Senate"—an oblique reference to William Evarts, a Gilded Age New York City lawyer who served as U.S. Secretary of State, U.S. Attorney General and U.S. Senator.
The location of the phantom New York City law practice of President Woodrow Wilson.
The locations of the actual New York City law practices of Presidents Martin Van Buren and Chester Alan Arthur.
The law office across the street from the old Tombs of the scoundrel law firm of Howe & Hummel.
The Westside Court where W.C. Fields was tried in 1928 for an act of alleged animal cruelty committed during his vaudeville act at Earl Carroll's Theater.
The East 69th Street home of Ruth Bader Ginsburg, to which she invited her colleagues to celebrate a victory in one of the many public interest cases she litigated before ascending to the bench.
The law office of a largely forgotten, early 20th century New York City lawyer, John Quinn, who was the subject of a Pulitzer-Prize-winning biography, not because of his legal career, but because of his connection to so many of the giants of the literary and art world of his day.
A new Appendix X, which offers a treasure trove of 100-year-old photographs of courthouses included in a 1908 New York City publication inventorying its municipal buildings.
I thoroughly enjoyed Bob Pigott's wonderful book, although it did make me a bit concerned that when we sent him to court on the Attorney General's business, he was more focused on the facades of the courthouses than the substance of the cases! — Eliot Spitzer, former New York Governor and New York Attorney General
This volume is a joy for anyone even the least bit interested in New York's legal culture and landmarks…. The book belongs on your shelf and in your lap. — Albert M. Rosenblatt, former Associate Judge of the New York Court of Appeals and President of the Historical Society of the New York Courts
Robert Pigott has been practicing law in New York City for over 25 years, and, though he began walking at an unremarkable age, has been exploring its streets for over 50 years. A specialist in non-profit law, he has worked in private practice and the New York Attorney General's Charities Bureau, and he is now the general counsel of a 100-year-old New York City non-profit organization. He went to elementary and junior high schools in Queens, to high school on East 15th Street and to law school on West 116th Street. He lives in Manhattan, one block from where he was born, with his wife and two children.
On June 10, 2013 Robert Pigott participated in a program titled A Tour of Our Beautiful Courthouses: Preserving, Protecting and Defending Them. Watch now!
---
The Fugitive Slave Rescue Trial of Robert Morris: Benjamin Robbins Curtis on the Road to Dred Scott
by John D. Gordan, III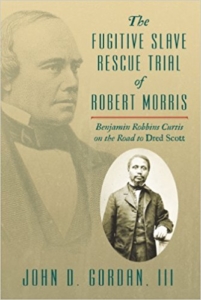 Relying on extensive surviving original records, this book analyzes the November 1851 trial in the federal circuit court of Robert Morris, the second black admitted to practice in Massachusetts, for rescuing a fugitive slave from the custody of the U.S. marshal in the federal courtroom in Boston. It demonstrates that Justice Benjamin Robbins Curtis, a supporter of Daniel Webster and the Fugitive Slave Act of 1850 presiding under a recess appointment, made two critical rulings against Morris that were at odds with existing precedents. Finally, the book contextualizes Morris's trial among the other trials for this rescue, the prosecutions for the attempt to rescue Anthony Burns, another fugitive slave, in 1854, and the Supreme Court's decision in Dred Scott in 1857.
This "small" book packs a large wallop. Gordan navigates the complexities of trial advocacy and trial procedure with unexcelled mastery. His analysis of the complex legal issues, including the power of the jury to rule on questions of law as well as fact, is persuasive. Gordan also throws a revisionist light on some of the major players – like John P. Hale who emerges from the wings as the real leader of the abolitionist bar; and Benjamin R. Curtis, whose manipulation of the law in the Morris trial illuminates his famous dissent in Dred Scott v. Sandford. A gem of a book. — R. Kent Newmyer, University of Connecticut School of Law.
A wonderfully detailed exposition of the fugitive slave rescue trial of Robert Morris, John Gordan's work unearths a wealth of material about the events, the people, and the legal acumen of the lawyers and judges involved. It will enable scholars to evaluate a question central to our judicial system: What is the proper division of authority between judge and jury? The information contained in Gordan's book provides a much-needed historically accurate basis from which to answer that question. — Maeve Marcus, The George Washington University Law School.
---
Opening Statements: Law, Jurisprudence, and the Legacy of Dutch New York
by Hon. Albert M. Rosenblatt and Julia C. Rosenblatt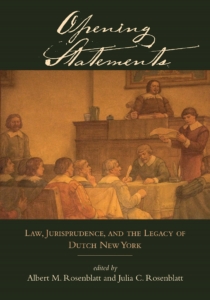 Explores the influence of Dutch law and jurisprudence in colonial America.
No society can function without laws, that set of established practices and expectations that guide the way people get along with one another and relate to ruling authorities. Although much has been written about the English roots of American law and jurisprudence, little attention has been paid until recently to the legacy left by the Dutch. In Opening Statements, a broad spectrum of eminent scholars examine the legal heritage that New Netherland bequeathed to New York in the seventeenth century. Even after the transfer of the colony to England placed New York under English Common Law rather than Dutch Roman Law, the Dutch system of jurisprudence continued to influence evolving American concepts of governance, liberty, women's rights, and religious freedom in ways that still resonate in today's legal culture.
Opening Statements addresses only a short chapter in the long history of America. Its judgments will not be without dispute, but then, as the eminent Dutch historian Pieter Geyl once wrote: 'History is an argument without end.' There can be no doubt, however, as to the value of those seeds of freedom that were deeply planted in New Netherland. They produced a revolutionary harvest that causes us to appreciate what the Dutch inspired. A small country, the Netherlands—yes—but always a powerful ally for America in the unending struggle for a well-ordered society where freedom and justice prevail. — from the Foreword by William J. vanden Heuvel
Opening Statements is a richly illustrated volume that offers a tantalizing and sometimes surprising view of jurisprudence in the Dutch colonial period and its lasting impact on modern life and law. A litigious people, the Dutch in New Netherland were also practical and pragmatic, turning to the law to settle disputes and to redress grievances. Opening Statements helps us understand what the Dutch rule of law meant to them, how it translated within the British legal system that was imposed after 1664, and what of it has become permanent legacy in America's legal and constitutional system. The essays are clearly and informatively written and provide keen insight into the character of the Dutch colonial system, the values of those who lived within it, the way in which those values and cultural traditions informed their legal system and, most importantly, into the elements of that system that are still evident today. — Christine W. Ward, New York State Archives
A fascinating voyage through the intriguing subject of the Dutch influence on our law, jurisprudence, and the New York we know today! Remembering the English takeover in 1664, I find myself again and again asking "What if?" as I conclude each essay by a world-class scholar (whose ample footnotes can carry the reader into far deeper waters), a pleasure cruise enhanced by a breathtaking array of magnificent illustrations. Yes, this captivating volume proves beyond doubt that the subject of the Dutch influence on New York deserves more than a once-a-century celebration. — Judith S. Kaye, Chief Judge of the State of New York (Ret.)
Albert M. Rosenblatt is a Judge (Ret.) of the New York Court of Appeals, a Judicial Fellow at New York University, and of counsel to McCabe & Mack. His books include The Judges of the New York Court of Appeals: A Biographical History. Julia C. Rosenblatt is the coauthor (with Frederic H. Sonnenschmidt) of Dining with Sherlock Holmes: A Baker Street Cookbook. Together, the Rosenblatts coauthored Historic Courthouses of the State of New York: A Study in Postcards.
Excelsior Editions, an imprint of State University of New York Press
---
The Judges of the New York Court of Appeals: A Biographical History
Edited by Hon. Albert M. Rosenblatt
Foreword by Hon. Judith S. Kaye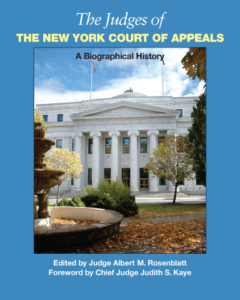 This important reference work provides a comprehensive, authoritative guide to 160 years of the important legal legacy of the New York Court of Appeals, featuring original biographies of 106 chief and associate judges and hundreds of illustrations. Each entry features a full personal and professional biography as well as concise coverage of landmark cases, key opinions and a detailed context for understanding the legacy of each jurist. This book will be an essential resource for the New York legal community, scholars, students and practitioners of the law around the nation.
This book may be purchased through Fordham University Press. The book retails for $180, but may be purchased for the special price of $87.50 plus $5.50 shipping and handling. Use the promo code "Judg" at checkout.
---
Historic Courthouses of the State of New York: A Study in Postcards
by Hon. Albert M. Rosenblatt and Julia C. Rosenblatt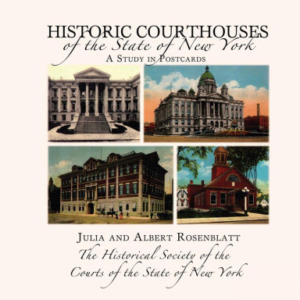 Courthouses have long served as the historical images for the counties in which they are built. Since the early 1900s, these monuments have been featured in historic picture postcards that served as inexpensive travel souvenirs and today provide an accurate visual record of our past.
This volume features rare postcard images of county courthouses throughout the state, along with a detailed narrative of notable trials and anecdotes, as well as the history of each county courthouse.
Through this book, the reader will gain an appreciation for these great, public courthouses, and gain an understanding of how each community has changed over the years, and how things remain the same.
Please note that this is a large [35.6 MB] PDF file.