B. The Life and Work of Rebecca Salome Foster
8. Traveling Throughout the City and Elsewhere
Mrs. Foster's work, and in particular her investigations into the background of accused persons, took her "into all parts of the city," including the Lower East Side, where so many poor immigrants congregated in very harsh conditions, "and among all sorts of people, and she… [became] very well known to all classes of the wretched and unfortunate who are unable to help themselves."[140] "She visited all parts of the city day or night without fear, the policemen all knowing her and serving as a sort of bodyguard."[141] One who knew her well said:
It was a wonder to me she could go about at all times of night and in all kinds of places alone and never have no harm come to her. She would go anywhere and do anything without thinking. One time she had been to a dinner at some fine place or other and got back to the hotel late. An old woman was waiting for her, and told her about a daughter that had got astray and was leading a bad life in a low resort on the Bowery. She had been gone from home a little over a week, and they had just found out where she was, but the dive-keeper had hid her away and the mother couldn't get to her. Well, Mrs. Foster got a cab and drove, just as she was, evening dress and all, right to the door of the dive.

She went in alone, and as she walked among the tables where men were drinking they called out to her all kinds of things. She went right to the bar and asked the keeper for the girl she was after. He swore at her and ordered her to get out. Then one of the men at a table near the bar jumped up and called out, "Speak civil to her, Patsy. Shut up, you fellows! That's the Tombs Angel you're talking to. That's who she is."

As soon as they heard that, a lot of the men came up, and the girls crowded around her, and they made Patsy go and get the one she'd come for.[142]
In a public address at what probably was a fundraising event, Mrs. Foster told this story:
One dark night, Mrs. Foster said, she was followed for several blocks on lonely East Side streets by a man who, Mrs. Foster thought at first, meant to rob her if he got a chance. At last she turned sharply around on him and asked him what he wanted. He told her he was following her to help her from being harmed. When Mrs. Foster asked him why he took such an interest in her welfare the man said:

"Oh, a friend of mine down there told me about you."

"'Down there,'" said Mrs. Foster, in telling the story, "always means in the Tombs with those people. 'Up there' or 'up the river' means at Sing Sing." [143]
Mrs. Foster not only dealt with defendants accused of and imprisoned on common criminal charges such as thievery and pickpocketing and others more serious, but also those whose primary difficulty was emotional turmoil or mental impairment or who, as in the instance mentioned earlier, had fallen into a bad life, in many cases under the influence of an evil man. Mrs. Foster reported, for example, the case of a girl she encountered on the street:
Another night I met a girl on Fourth avenue. Something in her face caught my eye, and I followed her until I caught up with her, although she ran to escape me. Then she asked me roughly what I wanted. I told her I thought she must be in some trouble, and she said, "Well, that's it. It's either the street or the river, and I'll take the river for mine."[144]
That proved to be a life-saving encounter for the girl. Mrs. Foster took her home and then got her a position. Sixteen years later, Mrs. Foster was able to say that the girl was living a happy and decent life.[145]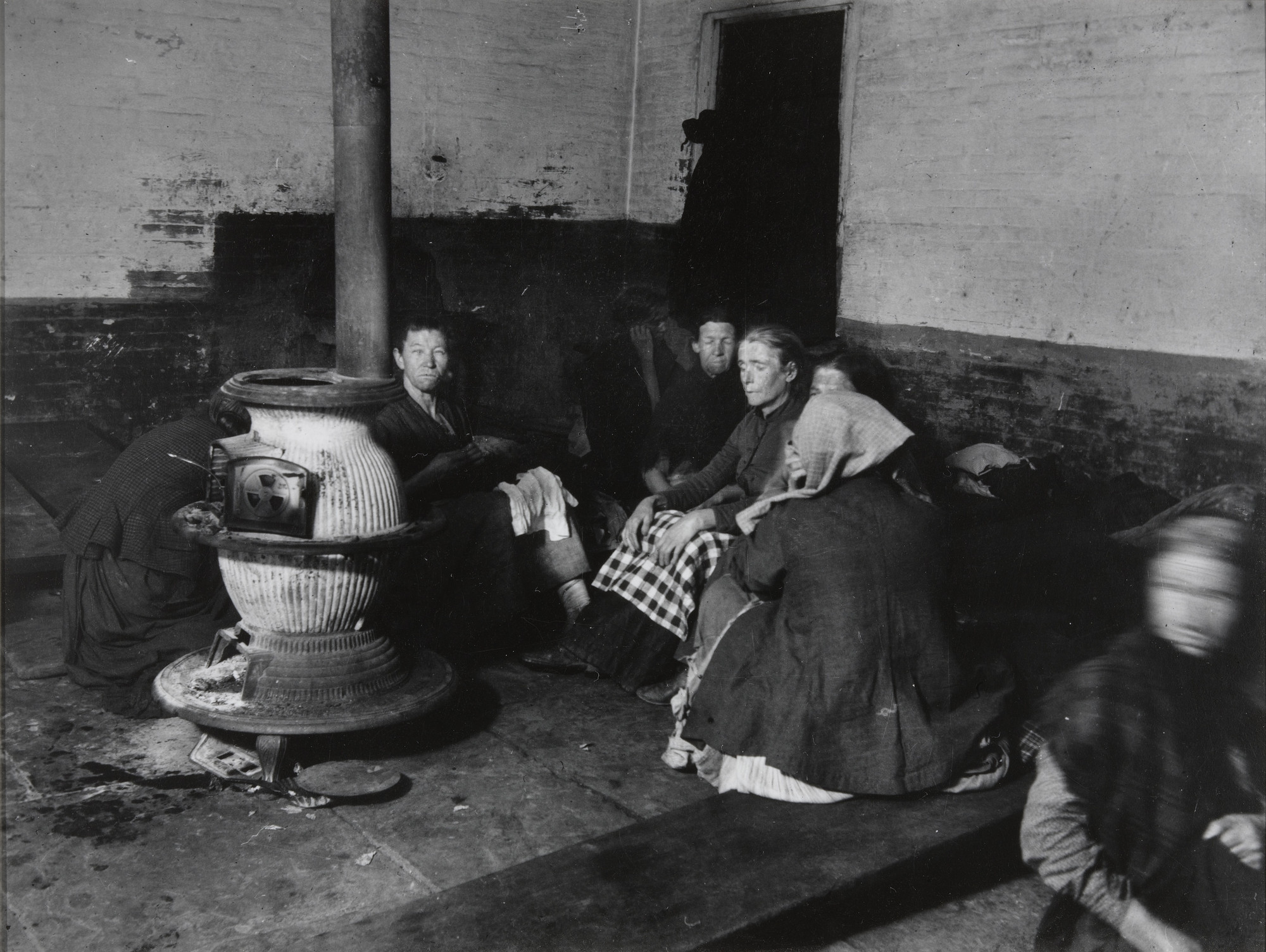 Among the many cases of this type with which Mrs. Foster concerned herself were these:
— Mrs. Foster took Lizzie Hoffman, age 18, to Bellevue for psychiatric examination.  Lizzie had thrown her illegitimate baby into the river and suffered a mental breakdown.[146]
— Adelaide Davidson, a young woman who had been indicted for attempting suicide in Central Park because of her husband's cruelty, was arraigned in the Court of General Sessions. The indictment was dismissed "as Mrs. Foster, the 'Tombs Angel,' promised to take care of the girl."[147]
— Mrs. Emma Foote, a well-dressed woman, stole 74 yards of silk in Wanamaker's. The police thought she had been suffering from an overdose of opiates. In the Court of General Sessions Mrs. Foster pleaded with the judge to be lenient, saying that the woman was in the last stages of consumption and presenting letters written in her behalf. The judge accepted a plea to a reduced charge and suspended sentence. The woman was discharged in the care of friends, who said they would look after her until her death.[148]
— A young widow named Mamie Carlton was arrested for attempting suicide and was confined to Bellevue. Mrs. Foster visited her there and offered to take her to St. Barnabas House until she could regain her strength, when a situation would be found for her. Later in court, Mrs. Foster explained to the judge what she proposed to do for the woman. The judge discharged her and Mamie accompanied Mrs. Foster to St. Barnabas House.[149]
— A 28-year-old waiter named Paul Baumgart tried to kill himself with laudanum because his wife had deserted him, and he did not care to live any longer. He was arrested. When his case came before the court, Mrs. Foster pleaded strongly in favor of the man and the court discharged him.[150]
— In Washington Square the police arrested a refined-looking woman, aged 35, who was acting strangely. She had pinned to her sleeve a piece of paper that said: "Am sick and ill. If I faint, do not think me a drunken woman. If I am insensible, please don't bury me alive." She was taken to court, where Mrs. Foster held a long conversation with her. Mrs. Foster told the judge that she knew the woman, who had once been wealthy but was now in reduced circumstances and mentally unbalanced. The judge discharged the woman, who left the courtroom leaning on the arm of the Tombs Angel.[151]
One of the safe houses Mrs. Foster used in her work, which was apparently referred to informally as "the Retreat,"[152] was Pelham Hall Shelter in New Rochelle, New York, which was established in 1895. This probably was the "little place, up somewhere on the Sound," to which Judge Jerome referred in a quote given above. Mrs. Foster herself noted the importance of the Shelter to her work.[153] A contemporaneous directory reported that the home was a refuge for erring girls between the ages of 15 and 25 years old who showed a sincere desire to reform. The girls lived at the home and learned a useful trade, such as sewing or housekeeping. Efforts would be made to find these girls homes in the country in which to live and jobs suited to their needs and abilities. Mrs. Foster, who was on the Board of Trustees of the Shelter, regularly took girls who had been incarcerated in the Tombs and been placed in her charge by the court to this home to give them safe living accommodations, food, and clothing while they learned a trade that might provide them support in a future life.[154]
In addition, in Manhattan, Mrs. Foster collaborated with the Episcopal City Mission, especially St. Barnabas House on Mulberry Street, which was where police headquarters was also located, and God's Providence Mission on Broome Street. It was in the lodgings at St. Barnabas House that Mrs. Foster was able to provide shelter in Manhattan for many unfortunate women who were committed to her care by the courts or found by her in the streets.[155]
In 1901, Mrs. Foster reported that over a ten-year period she had looked after 700 girls who had been entrusted to her care, which represented only a part of the work she did.[156] In that same year, she calculated that in the entire time she had been doing her work, only eight girls had gone back to prison. [157]
In her spare time (whatever there was of it), Mrs. Foster was also engaged in charitable endeavors beyond her prison work. She was active in the settlement house movement of the period.[158] She ran and was a mainstay of a sewing school for poor young girls, mostly Jewish immigrants from the Lower East Side, the "great east side, where want and misery are on every hand."[159] Instruction in sewing, but no religious instruction, was given to these girls. After the original location of the school became too small for the demand that pressed upon it, a wealthy woman put up a building on Broome Street that became the school's new home, as well as a venue for other work. This was known as God's Providence Mission,[160] of which Mrs. Foster was said to have been a founder.[161] Mrs. Foster might have 250 sewing students in her school at a time. "Her work of prevention was pursued as aggressively and as affectionately as her work of restoration."[162]