This blog article was adapted from the display surrounding the monument to Rebecca Salome Foster in the rotunda at the New York County Courthouse, 60 Centre Street. It was rededicated in a ceremony on June 25, 2019. Read more about the restoration process in the
New York Times
article "
New York's Tribute to the 'Tombs Angel': Lost, Found, Now Restored
."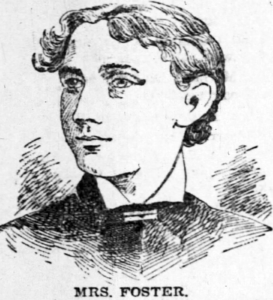 In the 1880's, Rebecca Salome Foster, spurred by her religious faith, began to devote herself to the overlooked needs of inmates incarcerated in the original Tombs Prison (1838) in New York City, especially young and vulnerable women. Mrs. Foster acted as a one-person social services agency, probation officer, and legal aid society (at a time when those entities were either non-existent or in their infancy), providing aid to the inmates of the Tombs and their families irrespective of race or religion. She befriended the accused and counseled them, extended financial assistance to them and their families, in many cases spoke to the court on their behalf, and, in the more serious cases, obtained legal representation for them free of charge. She earned the trust of the judges of the Court of Special Sessions as a person of great integrity, sympathy, and good judgment, and, in response to their requests, investigated the background of persons charged with crimes. She sought to help ease the path of inmates back into society. Often the court, on her recommendation, suspended sentences and placed the defendants in the care of Mrs. Foster, who provided them with food, clothing, shoes, travel expenses, and a place to live, and frequently obtained employment for them. She performed this work every day, without compensation, beginning the day at Calvary Church, where she was a parishioner, and where each day groups of people came to seek her help.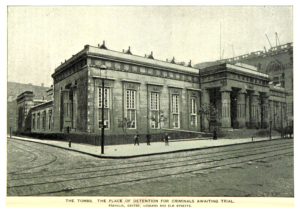 In the summer of 1896 alone, for example, Mrs. Foster made 420 visits to courts and prisons; helped 187 women and 71 men; paid travel expenses back to their homes for 13 women and girls and seven boys; provided lawyers for 133 women and 84 men; and gave 213 garments, 127 hats and 87 pairs of shoes to women and girls and clothing to 13 men. She paid the costs of her work out of her own resources and through support from her fellow parishioners and others. In time the inmates and their families came to call her "the Tombs Angel."
Beyond her service to the incarcerated and their families, Mrs. Foster took a leading part in the settlement house movement of the period, which provided services to immigrants and other poor in the City's tenement districts, including the infamous Five Points neighborhood, where the New York County Courthouse at 60 Centre Street would later be built. She ran a sewing school for as many as 250 young women and girls at a time, many of them Jewish immigrants.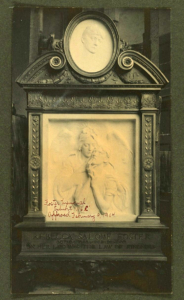 Tragically, in 1902, Mrs. Foster died in a large fire at the Park Avenue Hotel, supposedly a fire-proof building, which also took the lives of 16 other persons. It is said that she died when, after having left the Hotel, she returned to help someone else escape.
Because of the impact of her groundbreaking work and her great generosity, a campaign was organized after her death to erect a monument in her honor. Such was the respect she had won that the President of the United States, Theodore Roosevelt, donated to the memorial fund and commended the worthiness of the campaign. The resulting "Tombs Angel" monument was installed in 1904. Unfortunately, in time the monument was forgotten, and both the medallion likeness and the bronze frame were lost or stolen. What survives is Karl Bitter's marble relief. The relief was recently conserved and mounted on a newly-constructed pedestal, and was installed in this location and rededicated in a ceremony in 2019.
The restoration and rededication ceremony were sponsored by:
Family of Rebecca Salome Foster
New York State Supreme Court, New York County
NYC Public Design Commission
The Municipal Art Society
NYC Department of Citywide Administrative Services
Historical Society of the New York State Courts
Pedestal, Gift of the Paul and Klara Porzelt Foundation