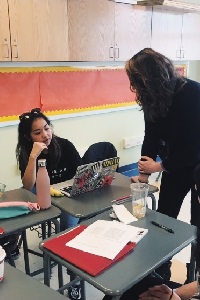 Empowering Students to Be Better Citizens & Create Change
Building on our founding documents, we work with educators to develop curriculum for students and teachers alike that explores the history of democracy in the U.S., the past and present challenges to its expansion and existence, and the fight to protect and preserve it in New York and the nation. Topics include:
Voting rights, disenfranchisement, and legitimizing elections
Slavery, abolition, and enduring racial disparities
Equality and discrimination
Reproductive rights
Free press and free speech
Immigration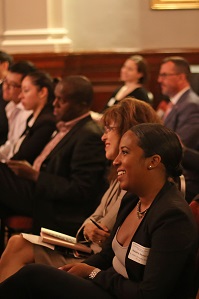 Building an Informed Citizenry through Our Public Programs
In 2022, our focus is on the role of the courts in improving the lives of its citizens, including the most vulnerable, and building a more equitable society.
Our programs will highlight:
The rights of LGBTQ people From Stonewall to Windsor
The rights of disabled people Willowbrook State School
The rights of Black people emerging from slavery Sojourner Truth's case to free her son
The continuing legacy of the Founding Fathers John Jay as the nation's first Chief Justice
What law school doesn't teach new attorneys Our Young Lawyers Committee prepares peers for practice
Shining Our Unique Spotlight in New & Novel Ways
Our travelling exhibit on the Lemmon Slave Case is currently on tour to 45 courthouses over 90 weeks, highlighting the courageous role of the courts in an era where the NY courts went against the U.S. Supreme Court's ruling in Dred Scott to free eight enslaved people. We are also developing an audio story podcast from the perspective of the enslaved heroine Emeline.
A publication that dives into the legal history of Asian Americans in the state and nation will cover topics that include: the impact of Asian American attorneys and judges in New York,  a history of violence and hostility against Asian Americans, historic cases, and the history of discrimination. Podcasts featuring interviews with survivors of internment camps and other podcast interviews will also be featured to further the discussion about the past, the progress made to the present, and what still needs to be done to build an equitable future.
Nearly 40 interviews with judges, court staff, and court officers explored the remarkable story of how the courts continued operations during the COVID-19 pandemic, starting in 2020 and continuing into the present, to keep the wheels of justice turning. In a companion series, we interviewed nearly 30 attorneys across the state about how the pandemic forced transformative thinking about what it means to be a lawyer and serve their clients.
A biography about a pioneering woman who served the courts as part Legal Aid lawyer, social worker, pastor, and parole officer Rebecca Salome Foster, The Tombs Angel, whose service led to a monument dedicated to her. In an era where there is renewed interest in rectifying the lack of public monuments to women, the story of the Tombs Angel is particularly relevant.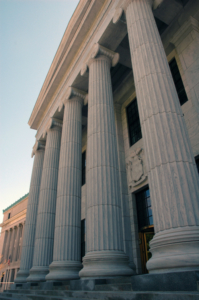 Looking Back on Our First 20 Years
With a clear eye on the future, we also look back on how far we have come. Dive into our website archive of projects. 
Our website has grown over the past 20 years into a rich archive of NY legal history, featuring judges' biographies, Legal History by Era, courthouses and their architecture, and our films.
How did we do in our first 20 years?
Let us know via email or connect with us on our social media channels: Facebook, Twitter, LinkedIn, Instagram, YouTube, or Spotify.
Ready to learn more?
Become a member to receive our publications, program announcements, and all communications about our 20th anniversary celebrations directly in your inbox, and check back often for more updates about our 2022 programming.
Above Image Caption from Left to Right: From our 2019 public program Art Restitution: Fair and Just Solutions?; Students in our course Gangsters, Graft, & Gotham visit the NYC Criminal Court; The reinstallation of the Tombs Angel Monument in 60 Centre Street in 2019.