Para Todos Los Niños: Mendez v. Westminster – A Seminal Case Toward Desegregation
April 14, 2021 @ 6:00 pm

-

8:00 pm

EDT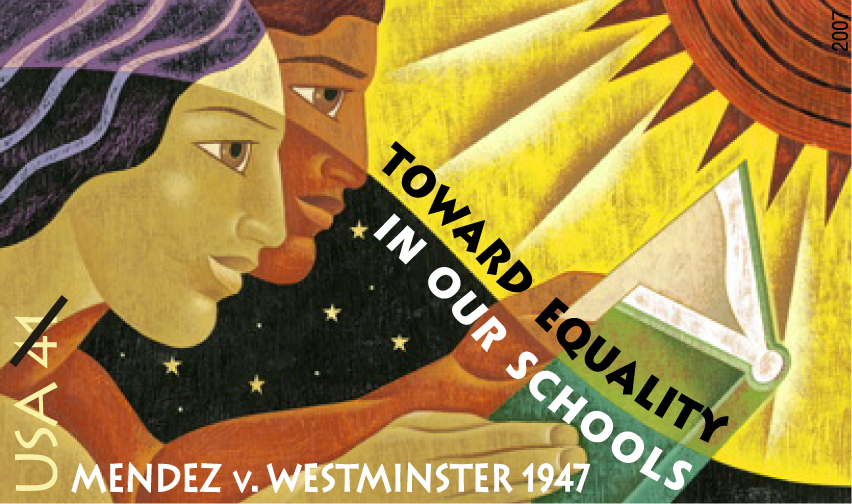 Mendez v. Westminster School District is a 2007 trademark of the United States Postal Service® and used with permission.
Presented by the Latino Judges Association
Webinar
On the 74th anniversary of the seminal decision of Mendez v. Westminster School Dist. of Orange County (161 F2d 774 [1947]), this event featured the screening of the Emmy-winning documentary on this rarely-discussed school desegregation case involving Mexican Americans in California, and was followed by a panel discussion moderated by NYS Court of Appeals Judge Jenny Rivera. The Mendez case, which predates Brown v. Board of Education, set the stage for the United States Supreme Court's reversal of the "separate but equal" doctrine.
PROGRAM
OPENING REMARKS
Hon. Sallie Manzanet Daniels, Associate Justice, NYS Appellate Division, First Dept.
WELCOME AND INTRODUCTION OF THE PANEL
Hon. Patria Frias-Colón, Judge, NYC Civil Court, Kings County
Hon. Lourdes M. Ventura, Justice, NY Supreme Court, Queens County
SCREENING OF DOCUMENTARY
Mendez vs. Westminster: For All the Children/Para Todos Los Niños (2003)
PANEL DISCUSSION
Moderator: Hon. Jenny Rivera, Associate Judge, NYS Court of Appeals
Sylvia Mendez, Original Plaintiff; Civil Rights Activist; 2011 Recipient of the Presidential Medal of Freedom
Hon. Frederick P. Aguirre, Retired Judge, Superior Court, Orange County, California  
Jose Perez, Esq., Deputy General Counsel, LatinoJustice PRLDEF
Sandra Robbie, Writer and Producer of the Award-Winning Documentary
Q&A
CLOSING REMARKS
Hon. Javier Vargas, Judge, Family Court, Kings County
---
VIRTUAL HOST
Bronx Women's Bar Association
EVENT SPONSORS
Historical Society of the New York Courts
LatinoJustice PRLDEF
Center on Latinx Rights & Equality (CLRE), CUNY Law
Franklin H. Williams Judicial Commission
New York State Judicial Institute
Watch the Program Video
Watch the Emmy-winning Documentary Mendez vs. Westminster: For All the Children/Para Todos Los Niños (2003)