Commemorating Our Past & Welcoming Our Future: History of Puerto Rican and Latino Lawyers and Judges In NY
December 8, 2020 @ 5:30 pm

-

7:30 pm

EST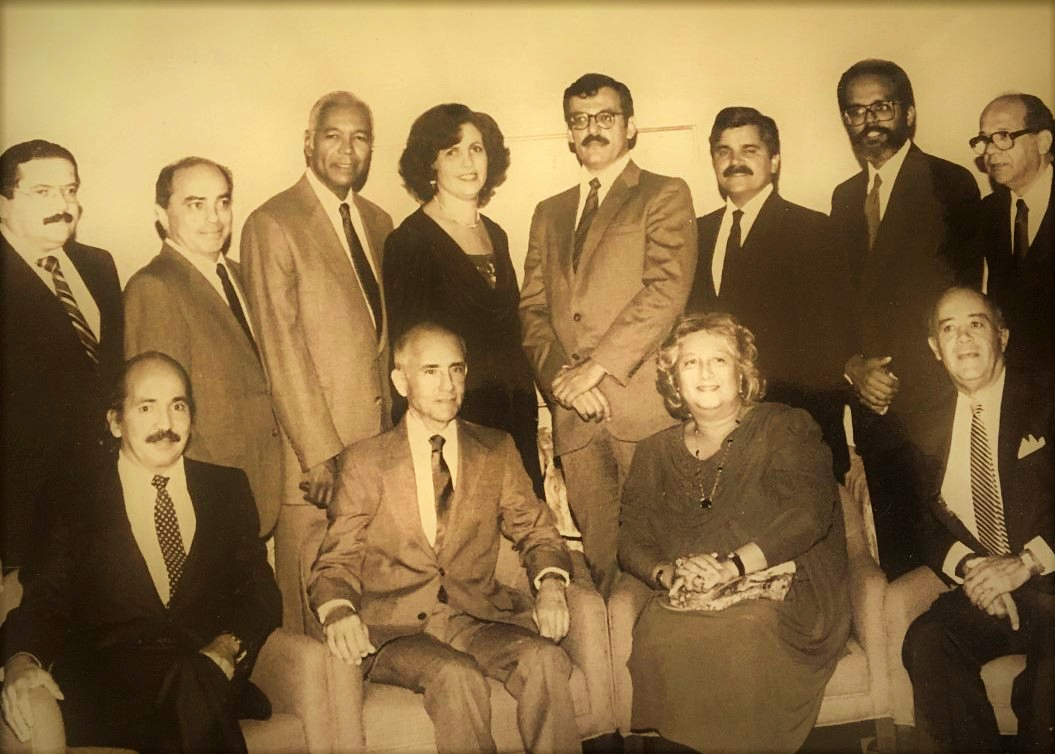 Photo: From Program New York Judges - Then and Now (Association of Judges of Hispanic Heritage, 2003). Back Row (L-R): Hon. Donald Grajales, Hon. Joseph Torres, Hon. Cesar Quinones, Hon. Carmen Beauchamp Ciparick, Hon. Luis A. Gonzalez, Hon. Jaime A. Rios, Hon. Charles Tejada, Hon. Frank Torres, Hon. Raul Figueroa. Front Row (L-R): Hon. Nicholas Figueroa, Hon. Gilbert Ramirez, Hon. Irma Vidal Santaella, Hon. John Carro
Webinar
Presented by the Historical Society of the New York Courts in partnership with The Puerto Rican Bar Association's Historic Preservation and Judiciary Committees.
PROGRAM
NYS has the fourth largest Hispanic population in the U.S. with 3.6 million Hispanic residents (6.6% of the total Hispanic population in the nation), yet remain underrepresented in the NY bench and bar. Latinos continue to work to overcome this underrepresentation in the legal profession and in the judiciary. This program brought together distinguished Latino and Puerto Rican lawyers and judges to examine and tell the story and evolution of their history in the NY legal profession, their journey to overcome struggles and challenges, including bias, lack of mentorship and access to the legal profession. It is the story of individual achievement as well as struggles to claim their position in the NY legal community.
WELCOME
Stephen P. Younger, Esq., Chair of the Board, Historical Society of the NY Courts
Betty Lugo, Esq., Co-Chair, Puerto Rican Bar Association Historic Preservation Committee
HISTORICAL IMPACT OF THE EARLY YEARS
Moderated by Ms. Lugo.
Featuring Hon. Carmen Beauchamp Ciparick, Hon. Luis A. Gonzalez, and Hon. Cesar A. Perales.
And video remarks from surprise judicial guests.
LATINO LAWYERS DISCUSS THEIR EXPERIENCES
Moderated by Carmen A. Pacheco, Esq.
Featuring Ms. Lugo, Norma E. Ortiz, Esq., William Pagan, Esq., and Angélicque M. Moreno, Esq.
And featured video remarks.
CONVERSATION ON BRIDGING THE COURT SYSTEM & WELCOMING THE FUTURE
Moderated by Ms. Lugo
Featuring Hon. Michael J. Garcia and Hon. Jenny Rivera.
This program is also sponsored by Pacheco & Lugo PLLC and LatinoJustice PRLDEF.
Photo: From Program New York Judges – Then and Now (Association of Judges of Hispanic Heritage, 2003)
Back Row (L-R): Hon. Donald Grajales, Hon. Joseph Torres, Hon. Cesar Quinones, Hon. Carmen Beauchamp Ciparick, Hon. Luis A. Gonzalez, Hon. Jaime A. Rios, Hon. Charles Tejada, Hon. Frank Torres, Hon. Raul Figueroa.
Front Row (L-R): Hon. Nicholas Figueroa, Hon. Gilbert Ramirez, Hon. Irma Vidal Santaella, Hon. John Carro
Watch the Program Video
Conversation with Hon. Jenny Rivera and Hon. Michael Garcia