Asian Pacific Americans on the Bench: Progress Made, Challenges Faced and Looking Forward
May 20, 2021 @ 6:00 pm

-

8:00 pm

EDT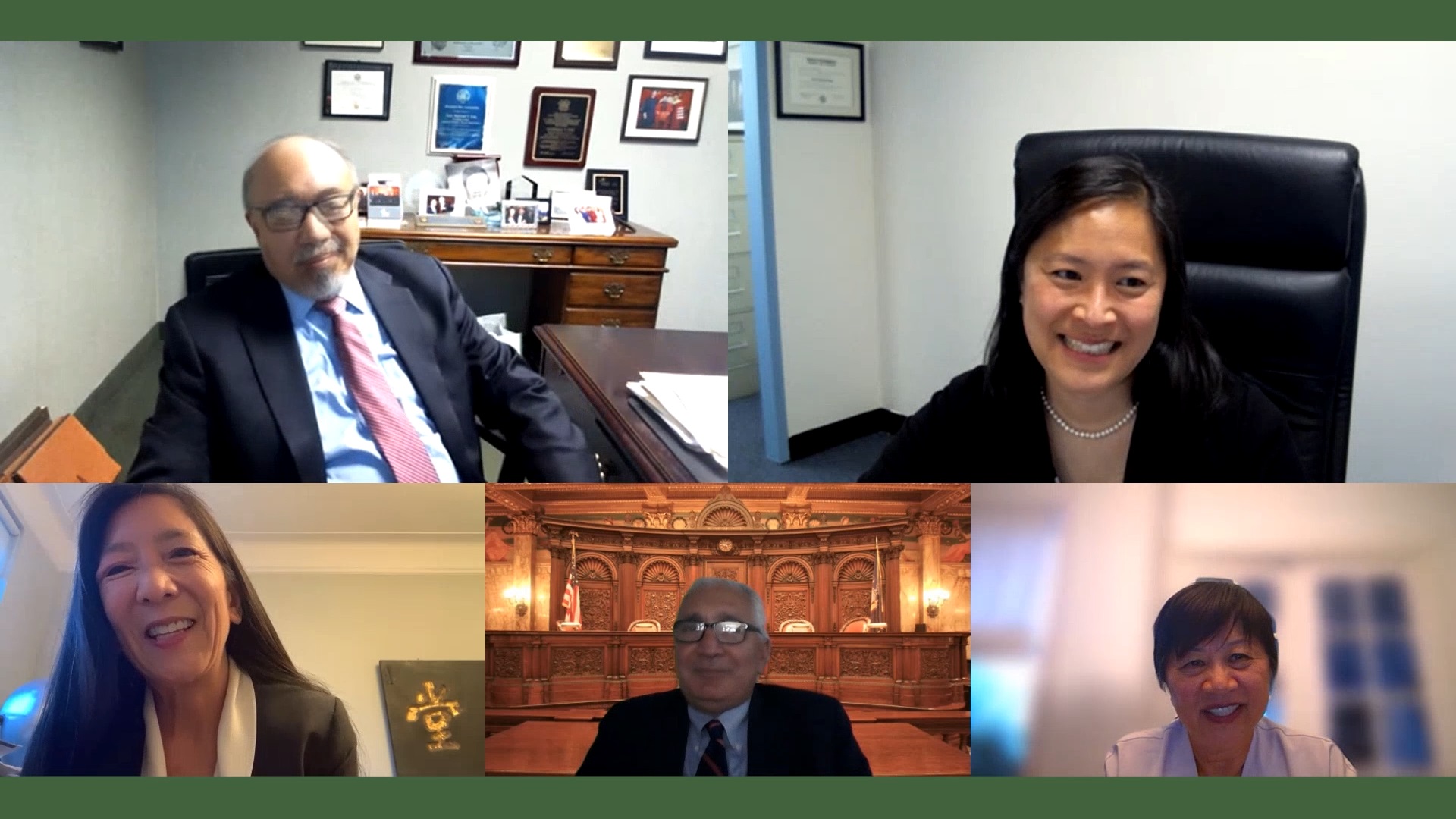 Top Row: Hon. Randall T. Eng and Hon. Lillian Wan. Bottom Row: Hon. Pamela K. Chen, Hon. Anil C. Singh, and Hon. Toko Serita
Presented by the Historical Society of the New York Courts in collaboration with the Asian American Judges Association of New York.
Webinar
Sponsored by Meyer Suozzi English & Klein P.C.
Meyer Suozzi English & Klein P.C. is a sponsor of this program in honor of our wise and respected colleague Hon. Randall T. Eng. We stand with him against bias and prejudice, and for equality and justice.
PROGRAM
Asian American Pacific Islanders (AAPIs) continue to be underrepresented in the judiciary and legal profession, though they are the fastest growing minority group in the past decade in NYS. This program during Asian American Pacific Islander Heritage Month 2021 looks back at pioneering AAPI judges in our state and then launches into contemporary challenges facing the AAPI judiciary and community, including addressing systemic bias and stereotypes in the legal profession, the judicial system and our everyday lives – topics that have particular resonance during this period of anti-Asian violence and hatred.
WELCOME
Hon. Janet DiFiore, Chief Judge of the State of New York
INTRODUCTION
Hon. Randall T. Eng, Of Counsel, Meyer Suozzi English & Klein P.C. & Former Presiding Justice, Appellate Division, Second Department
PRESENTATION
Hon. Lillian Wan, NYS Acting Supreme Court Justice, sets the stage for the panel discussion with a brief presentation on the challenges for Asian Pacific American lawyers and judges, both historically and in the present day.
PANEL DISCUSSION
Moderator: Hon. Lillian Wan
Hon. Pamela K. Chen, U.S. District Judge for the Eastern District of New York
Hon. Toko Serita, NYS Acting Supreme Court Justice and Presiding Judge of the Queens Human Trafficking Intervention Court
Hon. Anil C. Singh, Associate Justice of the Appellate Division, First Department.
Q&A
Watch the Program Video