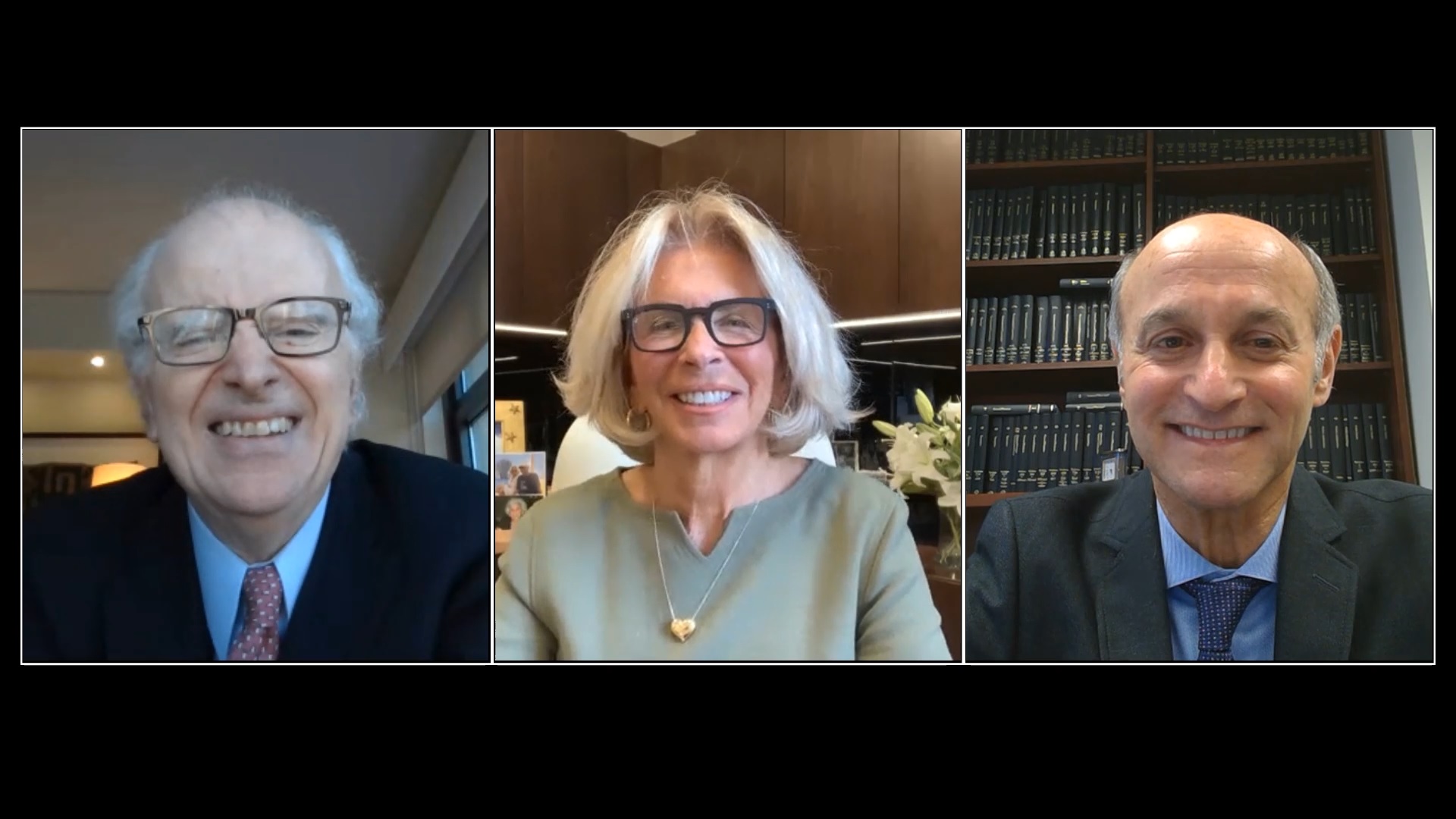 Watch the Interview
Hon. Janet DiFiore, Chief Judge of the Court of Appeals and the State of New York, was appointed by Governor Andrew Cuomo on December 1, 2015.  She was confirmed by the New York State Senate on January 21, 2016, and took office the same day.
Chief Judge DiFiore has devoted virtually her entire professional career to the fair administration of justice, including service as a prosecutor and as a judge.
From 2006 to 2016, as Westchester County District Attorney, Chief Judge DiFiore served as the chief law enforcement officer for a county with almost one million people and headed an office of over 230 employees, assigned to eight branch offices.  In that position, she was in the forefront of establishing innovative education and prevention initiatives to reduce crime.  Her many initiatives included leading the effort to create a Child Fatality Review Team in Westchester County; working to establish Westchester County's Multidisciplinary Team to investigate child abuse cases; and the creation of the Child Advocacy Center, to provide a child-friendly environment for young victims working with the District Attorney's office.  She also led the effort to establish the Westchester Intelligence Center, in order to facilitate the use of databases to obtain evidence and uncover trends in criminal activity, and established a Violent Felony Screening Protocol, for enhanced early review of the evidence in cases involving violent crimes.
Chief Judge DiFiore served as a Judge in Westchester County Court from 1999 to 2002, presiding, by designation, over matters in Family Court, Surrogate's Court and Supreme Court. She served as a New York State Supreme Court Justice from 2003 to 2005.  During that time, she was the Supervising Judge of the Criminal Courts for the Ninth Judicial District, leading the effort to reduce the criminal case backlog, to establish a Mental Health Court and a Sex Offender Court, and the implementation of Domestic Violence and Drug Treatment Courts.  She also served as Access to Justice Coordinator for the Ninth Judicial District.
Prior to being elected as a Judge, Chief Judge DiFiore served as an Assistant District Attorney and Chief of the Narcotics Bureau in Westchester County; Deputy Village Counsel for the Village of Bronxville; and worked in private practice.
In 2014, Chief Judge DiFiore served as a member of the Governor's Commission on Youth, Safety and Justice, created to recommend reforms to the laws governing the prosecution of young offenders.  In 2011, Governor Andrew Cuomo appointed her to serve as the first Chair of the New York State Joint Commission on Public Ethics.  Chief Judge DiFiore has also served as the Co-Chair of the New York State Justice Task Force, created in 2009 by then-Chief Judge Jonathan Lippman, to examine the causes of wrongful convictions.  Then-Chief Judge Judith S. Kaye appointed her, in 1999, to serve on the Commission on Drugs and the Courts, and, in 2004, Judge Kaye appointed her to serve on the Commission on the Future of Indigent Defense Services.  Chief Judge DiFiore also has served as the Co-Chair of the Westchester County Reentry Task Force and as a member of the Advisory Board of the Holocaust and Human Rights Education Center.  And, in 2011-12, she served as President of the District Attorneys Association of the State of New York.
Chief Judge DiFiore received her J.D. from St. John's University School of Law in 1981 and her B.A. from C.W. Post College, Long Island University in 1977.
Hon. Lawrence K. Marks has performed a key management, policy and legal role in the state court system for many years.
In July 2015, he was appointed Chief Administrative Judge of the Courts of New York State. As Chief Administrative Judge, he oversees the day-to-day administration and operation of the statewide court system, with a budget of over $3 billion, 3,300 state and local judges and 15,000 nonjudicial employees in over 300 locations across the state.
Judge Marks previously served as First Deputy Chief Administrative Judge, the second highest-ranking administrative official in the court system. He also served as Administrative Director of the Office of Court Administration, responsible for day-to-day management of that office, as Special Counsel to the Chief Administrative Judge and as OCA's Criminal Justice Counsel. Prior to joining the court system, he was a senior supervising attorney with the Legal Aid Society in New York City, in private practice and a law clerk to U.S. District Judge Thomas C. Platt.
In 2009, he was appointed by Governor David Paterson as a Judge of the Court of Claims; he was re-appointed to that position in 2015 by Governor Andrew Cuomo. In addition to his administrative responsibilities, Judge Marks hears cases in the Commercial Division of the Supreme Court, New York County.
Judge Marks is the editor and co-author of New York Pretrial Criminal Procedure (Volume 7 of West's New York Practice Series), and the author of numerous government reports and several law review articles.  He also has been an adjunct professor at the law school and graduate school levels. The recipient of multiple awards, he has received judicial leadership awards from the Judicial, Criminal Justice and Family Law Sections of the New York State Bar Association.
He is a graduate of the State University of New York at Albany (magna cum laude) and Cornell Law School (cum laude), where he was an editor of the law review.
Hon. Jonathan Lippman, former Chief Judge of New York and Chief Judge of the New York Court of Appeals, the state's highest court, is Of Counsel in the New York office of Latham & Watkins LLP and a member of the firm's Litigation & Trial Department. He provides strategic counsel to clients on New York Law and appellate matters nationwide, and is a leader of the firm's pro bono practice.
Judge Lippman served as Chief Judge of the State of New York and Chief Judge of the Court of Appeals from February 2009 through December 2015. During his tenure on the Court of Appeals, Chief Judge Lippman authored major decisions addressing constitutional, statutory and common law issues shaping the law of New York, the contours of state government, and the lives of all New Yorkers.
As the state's Chief Judge, he championed equal access to justice issues in New York and around the country and took the leadership role in identifying permanent funding streams for civil legal services. Chief Judge Lippman made New York the first state in the country to require 50 hours of law-related pro bono work prior to bar admission and established the Pro Bono Scholars and Poverty Justice Solutions Programs to help alleviate the crisis in civil legal services. He strengthened the state's indigent criminal defense system, addressed the systemic causes of wrongful convictions, created Human Trafficking Courts across New York State, and led efforts to reform New York's juvenile justice, bail and pre-trial justice systems. Judge Lippman championed the state's commercial division as a world-class venue for business litigation, reformed the state's attorney disciplinary system, adopted the Uniform Bar Exam, and succeeded in the creation of a statewide salary commission for judges.
Chief Judge Lippman has served at all levels of the New York State Court system in a career spanning more than four decades, including service as a staff attorney, administrator and judge. From January 1996 to May 2007, he served as the longest-tenured Chief Administrative Judge in state history, playing a central role in many far-reaching reforms of New York's judiciary and its legal profession. From May 2007 to 2009, Judge Lippman served as the Presiding Justice of the Appellate Division of the Supreme Court, First Department, dramatically reducing the court's pending backlogs.
In 2008, Judge Lippman received the William H. Rehnquist Award for Judicial Excellence, presented each year by the nation's Chief Justice to a state court judge who exemplifies the highest level of judicial excellence, integrity, fairness and professional ethics. Judge Lippman was selected for his "unparalleled ability to promote and achieve reform in the state courts. His leadership in the New York courts contributed to numerous improvements in that state's justice system and served as an example for courts across the country." In 2013, the American Lawyer named Chief Judge Lippman one of the Top 50 Innovators in Big Law in the Last 50 Years. A New York Times article in December 2015 stated that Judge Lippman had left an altered legal profession in New York by using "his authority to promote an ideal of lawyering as a public service."
Judge Lippman was the 2016 American Bar Association's John Marshall Award recipient, an award whose prior recipients include Supreme Court Justices Anthony Kennedy and Sandra Day O'Connor. Judge Lippman presently serves as the Chair of the Independent Commission on New York City Criminal Justice and Incarceration Reform, a 27 person blue ribbon commission, formed to examine the future of the Riker's Island jail facilities in the context of systemic criminal justice reform.