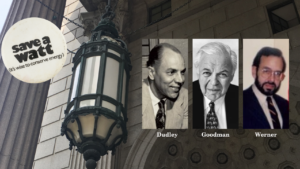 The New York County Courthouse at 60 Centre Street is a legal landmark marking the northeast corner of Lower Manhattan's Foley Square. Though a monument in its own right, everyday Americans also know it from television shows such as Law & Order and movies like Miracle on 34th Street. But after electricity provider Consolidated Edison kicked off its "Save-a-Watt" power conservation campaign in 1971, efficiency-minded bureaucrats from the City of New York zeroed-in on the building's original Tiffany chandeliers as a potential source of energy savings.
Luckily, a young John Werner – who would later become Chief Clerk to the Hon. Norman Goodman, New York County's longest-serving County Clerk – sprang into action before the City could follow through with its plot to swap the Tiffanies for garish fluorescent lights. Werner quickly alerted Goodman to the impending sacrilege, who in turn tipped off the Hon. Edward R. Dudley, then serving as both New York State's and New York County's first Black Administrative Judge, who worked with the Landmarks Preservation Commission to save many of the fixtures from the dumpster.
"Yes, we put a stop to that," Goodman recalled slyly in a 2009 Society oral history with co-conspirator John Werner. As a result, today's visitors to 60 Centre have Dudley, Goodman, and Werner to thank each time they see an original Tiffany chandelier brightening our beloved courthouse's hallowed walls.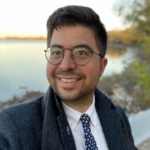 Oral history selected by Adrian I. Untermyer, Society Partner in Public Programs, Podcasts, & County Legal History Project; Attorney & Preservationist
NG: The City Art Commission oversaw all of this and gave permission to fix the landmarked artwork. So it was all submitted to them.

JW: Well, I think what's clear from what you're telling us, is that almost constant vigilance is necessary to preserve the art and architecture of this very important building.

NG: Oh yes. Oh yes. To preserve the architecture of the building. At the conclusion of the artwork, I said, "We have repaired the artwork and taken care of it for our generation." My guess is that in some future generation they're going to have to do the same thing all over again.

JW: Do you remember the city "save a watt" program? Do you remember where they were taking down our Tiffany chandeliers? They wanted to replace most of them with fluorescent lights? We put a stop to that?

NG: Yes, we put a stop to that.

JW: With the landmark commission's help. It was a very strange project on the city's part and I'm sure well-intentioned, but totally inane when it came to the heritage of —

NG: John, I believe the leading person who got involved with that was yourself.

JW: I was involved with that.

NG: Yes, you were involved.

JW: Because I saw these chandeliers on the floor. [74:00] I was so shocked. I couldn't imagine that anyone would —

NG: Yes, and you bring up a wonderful point, which is that all the chandeliers throughout the building —

JW: Of which we lost quite a few.

NG: Of which we lost quite a few. Were done by Louis Comfort Tiffany
Photo Credits: Adrian Untermyer (Light Fixture); Historical Society of the New York Courts (Portraits); Busy Beaver Button Museum (Button).