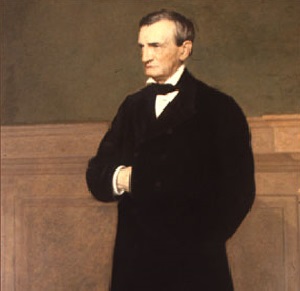 In New York City, there is no park or high school named for, let alone a statue of, William Evarts. The only trace of this towering Gilded Age New York lawyer and statesman is found above the doors of two adjacent tenement buildings at Second Avenue and 14th Street. Named "The U.S. Senate" and "The W. M. Evarts," they commemorate the fact that the townhouse of Evarts, a former U.S. Senator, stood on the site of the two tenements during the latter half of the 19th century. (In contrast, William Seward, New York lawyer and statesman of a generation earlier, got a park, a high school and a statue.) If Evarts is remembered at all today, it is primarily by legal historians for his 1891 sponsorship, while U. S. Senator, of the law that came to be known as the Evarts Act and created the modern federal court system.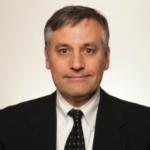 Article selected by Robert Pigott, Judicial Notice Author and Society Program Partner; Vice President and General Counsel, Phipps Houses; New York Legal Landmarks Author
The Circuit Court functioned as both a trial court and an appellate court. Federal trial court jurisdiction was shared by the District Court and the Circuit Court, with jurisdiction over more significant cases residing with the Circuit Court. However, this allocation of jurisdiction did not mean that District Court Judges were relegated to only cases of lesser significance. District Court Judges presided over the more significant federal cases as well, because they also served as Circuit Court Judges. Indeed, there were no federal judges who served only on the Circuit Court. The Circuit Court Judges were drawn from two sources: District Court Judges and Supreme Court Justices "riding circuit." (Supreme Court Justices were generally assigned to the Circuit containing their home states to minimize travel burdens.)

The Evarts Act ushered in the federal court structure that has endured to this day of (i) the District Court as the trial court, (ii) the Courts of Appeals as
intermediate appellate courts and (iii) the Supreme Court as the highest appellate court, since 1925 generally hearing only those appeals from a Court of
Appeals or highest state court that it decides to hear by grant of a petition for writ of certiorari.

However, for reasons that transcend his sponsorship of the Evarts Act, William M. Evarts and his remarkable legal and government career warrant
re-examination. The only full biography of Evarts, the principal source for this article, was written 75 years ago.