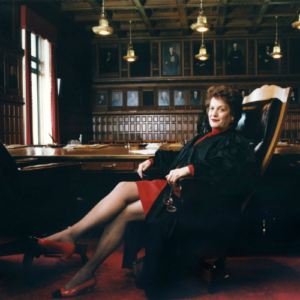 After 10 years as the first woman Judge of the New York Court of Appeals, Judith S. Kaye was a front-runner to become the next (and first woman) Chief Judge of the State of New York. At the same time, Judge Kaye, by then a nationally renowned jurist and legal scholar, was also under consideration to be United States Attorney General and for a seat on the Supreme Court of the United States. She declined both, unwilling to leave her beloved Court of Appeals. With tremendous wisdom, an unswerving dedication to justice, and a tireless commitment to bettering the lives of New Yorkers and the entire justice system, Chief Judge Kaye led the courts through triumph and tragedy, always a steady hand at the helm. With bravery and boldness, undeterred by entrenched interests or longstanding assumptions, she fought ceaselessly to improve any matter within her purview. Combining great warmth, unswerving kindness, utter brilliance, and a dry, sometimes mischievous, but often side-splitting, sense of humor, with true passion and excitement for her dual top jobs as judge of the law and administrator of the courts – each of which, she often remarked, took 80% of her time – Judge Kaye will forever rank as among the greatest Judges and greatest Chief Judges that New York, and indeed the Nation, has ever known.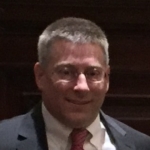 Oral history selected by Hon. Robert M. Mandelbaum, Judge Kaye's oral history interviewer & former clerk; Acting Justice, New York State Supreme Court, New York County
RM: During that same period [when you under consideration for Chief Judge], you were under consideration for some other jobs, too.

JSK: I guess it must have started right after the presidential election, the election of President Clinton, that one day in the New York Times — which we would read at the breakfast table, [my husband] Stephen and I. But one day, I was on the front page of the New York Times, along with three other women — Judge Patricia Wald, Brooksley Born, and Amalya Kearse. The four of us were pictured in the New York Times, on the front page, as the four finalists for the Office of Attorney General. That came as a real shock to me, because nobody had said a word to me about being the Attorney General. It was surprising, upsetting, whatever word, but there it was on the front page of the New York Times. And to make it even more interesting, that very day — I was at the time, on the Council of the American Law Institute, and the Council was meeting down at NYU Law School. I went down for the meeting and Pat Wald was down there, and she called me out of the room and she said, "It's not me." She said, "I was in Little Rock, and for personal reasons, I'm withdrawing my name, so I know it's not me." So that made me even a little more uncomfortable and I called my friend Amalya Kearse and she said, "It's not me, either." And with that, I remember going to Albany and nothing more was said of the whole issue.

I went up to Albany. I was in my chambers. I can't remember which session that would have been, in late 1992. I don't think it was — no, it was before the inauguration, so it was still late 1992, and early — very early in the morning, I had a call from Warren Christopher, who was then heading President, Governor, President-Elect Clinton's transition team, and he said either the Governor or the President-Elect — I don't remember which term he used — "would like to see you tomorrow in Little Rock. Just let us know when your plane arrives. Click." And that was on a Thursday and the Court was finishing up in Albany. I say, that was very, very early in the morning. I said nothing, hung up the phone, when it dawned on me that I had no desire to be the Attorney General. I tried to get Warren Christopher back on the telephone and learned that he doesn't take calls — he only makes calls in the morning — he takes calls in the late afternoon, which is a very, very good thing to do, because you get your whole day loused up with these — ­especially with email now. You get the whole day just reconfigured.

So I was unable to reach Warren Christopher until the late afternoon. In the interim, word got out around the courthouse and people were abuzz, including Hank, who came running over. My law clerk, Joe Matalon, I remember saying that it would be unpatriotic for me not to go to Little Rock, that I just had to go to Little Rock. Well, anyway, by the time the late afternoon arrived and I could reach Warren Christopher, I did indeed call him back to tell him that I would come to Little Rock the next day, and I went. I stopped by the Fordham Law Library and picked up a doctoral thesis on the Office of the Attorney General. I was a good friend of the librarian, because I used to work in the stacks a lot there. She let me take it overnight and I went down to Little Rock and met with President-­Elect Clinton, and it was pretty fabulous. But I told him, "I'm not your man." We talked a lot about the Supreme Court of the United States.

So the next day — I came back. Oh, and we stopped in the kitchen, President-Elect Clinton took me into the kitchen, where Hillary was picking fabrics — I mean, who could ever forget those days — for the Inaugural Ball. And we chatted a bit. Hillary and I had been on an American Bar Association Commission on Women in the Profession. And the next day, early in the morning, I called Warren Christopher and told him that I was withdrawing my name.

So that kind of ended that for a while, until the next episode, which was, like, the week after I was sworn in as Chief Judge, when the buzz started again, and another article in the New York Times, because Byron White resigned and I was on the front — I'm not sure it was the front page but it could have been — as a leading candidate for the United States Supreme Court. This time, I talked to my husband. It was shortly after I was sworn in as Chief Judge, and my husband said, "You really have to decide what you want to do and if you decide you want to do this, there's strategy and there's tactics." I thought a lot about that and that just didn't seem like I wanted to do that — strategy and tactics — given the state of things in Albany. No, didn't think so.

So, I called my friend Bernie Nussbaum, withdrew my name from consideration, and his line has lived with me forever, which is, "Is there something about the water in New York, Mario and you?" He said, "The stars will never be aligned for you as well as they are today." That's what he said to me, and he was absolutely right. As Chief Judge of the State of New York, the stars could never be aligned for me as well as they were.