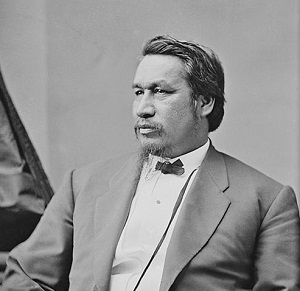 This year, 2022, the U.S. Mint issued a $1 coin (uncirculated) honoring Ely Samuel Parker, a U.S. Army officer, jurist, engineer, and tribal diplomat, who served as military secretary to Ulysses S. Grant during the U.S. Civil War. He was among the small cadre who accompanied Grant, then commander of U.S. forces, to the surrender of General Lee's army at Appomattox and it was he who wrote out the official copy of the terms of surrender signed by General Grant and General Lee.
As a young man, Parker had studied law for the customary three years in the prominent law office of Angel & Rice in Ellicottville, N.Y. but upon his application for admission to the New York bar, the New York Supreme Court ruled that only natural-born or naturalized citizens could be admitted to practice.  As a Seneca, Parker was neither.
In 1851, the Seneca proclaimed Parker Sachem of the Six Nations and, with attorney John Martindale, he began the 20-year battle to preserve the homelands at Tonawanda for the Seneca by initiating lawsuits in which both the New York Court of Appeals and the Supreme Court of the United States upheld the rights of the Seneca. These cases were Fellows v. Blacksmith and New York ex rel. Cutler v. Dibble.
Biography selected by Frances Murray, Founding Trustee; Trustee Emeritus; Former Chief Reference Attorney, New York Court of Appeals
At the age of 18, Parker moved to Cattaraugus County in western New York, where he commenced his legal studies in the Ellicottville law offices of Angel and Rice. But when he applied for admission to the New York bar, the New York Supreme Court ruled that only natural-born or naturalized citizens could be admitted to practice and, as a Seneca, he was neither.

Parker then studied civil engineering at Rensselaer Polytechnic Institute, and when a project to extend the Erie Canal was approved, Parker received appointment as the resident engineer at Rochester, New York. Around this time, the Seneca proclaimed Parker as Sachem of the Six Nations and, with his attorney John Martindale, he continued the 20-year battle to preserve the homelands at Tonawanda for the Seneca by commencing four lawsuits against the Ogden Land Company and their grantees. One case was lost in the New York Supreme Court and a second on appeal to the New York Court of Appeals but, in the other two, both the New York Court of Appeals and the Supreme Court of the United States upheld the rights of the Seneca. These cases were Fellows v. Blacksmith and New York ex rel. Cutler v. Dibble.

Dr. Stephen Saunders, Maxwell School at Syracuse University, wrote that the Supreme Court decision in the latter case "inspired a Senate Treaty, which permitted the Tonawanda Senecas to use a significant part of the resources set aside for their removal to Kansas to buy back over 7-thousand acres of the Tonawanda reserve. And to establish a permanent home for themselves, as it turned out, a permanent home for that tradition that everyone thought was going to die. This is Ely Parker's legacy."