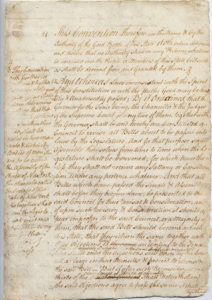 There are moments in history when a perfect confluence of circumstance creates an event of such significance that its import resonates far beyond the boundaries of its age. The extraordinary collection that became the New York State Constitutional Convention of 1777 is, in every possible sense, that perfect confluence.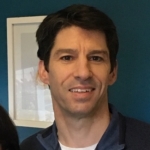 County Legal History selected by Paul T. O'Neill, Co-Author, History of Ulster County Bench and Bar; Commissioner of Jurors, Ulster County
On February 19, 1777 an group of exceptional individuals met in Kingston, New York to determine the future of New York. What they achieved there created not only the new State of New York but laid the foundation for a new nation. These individuals, whose number included the first Chief Justice of the United States Supreme Court, the author of the phrase "We the People…" in the United States Constitution and the man responsible for the Louisiana Purchase, pledged their fortunes, their futures, their very lives, for the ideal that freedom and democracy should be the guiding precedent for all government.

This group became the New York State Constitutional Convention and met formally in the Ulster County Courthouse for the first time on March 6, 1777.  There a Committee led by Founding Fathers John Jay, Chancellor Robert R. Livingston and Gouverneur Morris created a governing compact for our new state.  They presented this compact to the Convention on March 12th and, after due deliberation and discussion, the New York State Constitution was ratified by the members on April 20, 1777.  The Constitution was read in public for the first time on the front steps of the Ulster County Courthouse two days later, on April 22, 1777, and went on to become the model for our United States Constitution. It is to the revolutionary concepts contained in this sacred document that we owe the freedoms we enjoy today and the Ulster County Courthouse has justly earned, through the efforts of this esteemed collective, the title "Birthplace of New York State".

After ratification, copies of the New York State Constitution were printed for dissemination to the public and the municipalities, with the first series printed in Fishkill, New York and a subsequent printing in Philadelphia, Pennsylvania. An original copy of the Philadelphia printing, one of the few remaining from the original printings, is on display in the Ulster County Courthouse courtesy of the Ulster County Bar Association.