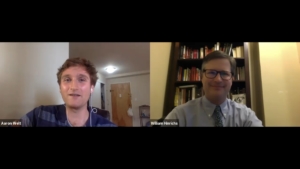 This episode was recorded on May 28, 2020 and features an interesting discussion about the Society's Judith S. Kaye Teaching Fellowship at Bard High School Early College.
William H. Hinrichs, Dean of Academic Life at Bard Early Colleges, speaks with Aaron Welt on his experience as the Judith S. Kaye Teaching Fellow at Bard High School Early College in Queens and Manhattan over the past three semesters. They chat about the importance of the Society's grant to facilitate these civics courses that focus on the legal history of New York State, the positive effect it has on students who take the courses, and the benefits and challenges of virtual learning.
This podcast is a part of our series Distance Teaching During the Pandemic. For more episodes, please visit the series page. 
 Audio
Listen on your favorite podcast carrier!