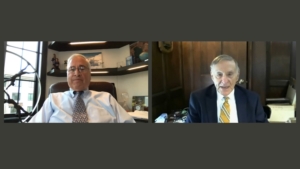 This episode was recorded on April 20, 2020, and showcases a landmark NYS high court decision ahead of Dred Scott.
Historical Society of the New York Courts Trustees Dennis E. Glazer (former head of litigation practice at Davis Polk & Wardwell LLP) and Hon. Albert M. Rosenblatt (former Associate Judge of the NYS Court of Appeals) trace New York's relationship with slavery from the early days of the colony to the climate of the nation leading up to the Civil War. The video version is peppered with amazing imagery that Judge Rosenblatt has collected through his research into his forthcoming book on this case. The episode culminates with an investigation into the Lemmon Slave Case itself. Affirmed by the Court of Appeals in 1860, the Lemmon Slave Case illustrates how NYS law was ahead of federal in finding that slaves brought into the State were not property. This went against the Supreme Court's Dred Scott decision, decided three years earlier.
Audio
Video
You can also find the video on YouTube and Facebook.
Slide Presentation
This slide presentation complements this episode by including additional images of the history of slavery in New York.
Listen on your favorite podcast carrier!