Attorney
Interviewed: 03/10/2016
Roy was born the second son of Rita and John Reardon. Two more children were yet to come, another son and a daughter, and the family lived for decades in Astoria, Queens.
John, his father, was a printer by trade and worked for a financial newspaper until the depression caused it to fail. Then, like many others, he worked where he could find it, including for a time for the WPA on public construction projects, like digging ditches along what we know today as the Grand Central Parkway.
While times were hard, the Reardon children were happy and oblivious to the economic circumstances of their lives. All of the children attended public schools, each ultimately graduating from William Cullen Bryant High School. Roy's mother Rita, a tiny woman, was the dominant figure in the household, particularly after the untimely death of her husband at age 47, and instilled in the children a commitment to the church, the family, and to making a life for themselves that would be better than hers had been.
Continuing Reading
Roy, with the encouragement of his father, was driven to sports, particularly basketball. He was on the varsity basketball team at Bryant High and upon graduation received a full athletic scholarship to St. Francis College in Brooklyn. St. Francis was then located in South Brooklyn and had been founded by a religious order of Franciscan Brothers. St. Francis offered no campus with ivy-covered buildings, handsome dormitories or grassy lawns. The students all commuted to school by public transportation – the bus or subway – and most worked to get by and pay the modest tuition. What St. Francis may have lacked in the way of a traditional campus setting, it made up for with an excellent college education and the ability to instill in its students a unique discipline and dedication to achievement under less than ideal conditions. Today St. Francis can be found in the Brooklyn Heights/Borough Hall section of Brooklyn in an impressive array of buildings that is largely the work of Dr. Frank J. Macchiarola, its President for two decades and a great man.
Basketball became Roy's life at St. Francis. In his senior year he was co-captain of the varsity team and became the highest scoring player in the history of the school. At the end of his last season, he was drafted by the Syracuse Nationals of the NBA (now the Philadelphia 76'ers). A dream come true. But something else had come into Roy's life that offered a potentially desirable long-term alternative.
That something was law school. This interest was sparked in an unusual way. There were no Reardon lawyers in the family or any other professionals. But Roy had a close pal named Tony who was also a basketball player at St. Francis. One day Tony invited Roy to watch trials in the criminal  courthouse in Borough Hall, Brooklyn. Perhaps it was the competitive nature of what Roy saw, but he and Tony thereafter regularly went to the courthouse and they enjoyed it. In his senior year, Roy applied to St. John's Law School (then located in Brooklyn) and was accepted. And so the first real crossroads decision was presented – go to training camp with the Syracuse Nationals in September or go to law school. He could not do both. It was an easy decision. If he went to training camp and did not make the team he would have given up his chance to enter law school. Too big a price to pay.
So he decided to go to law school and to play basketball for the Saratoga Yankees in the Eastern League – three games a week from November to April at $40 a game – more money than he had ever seen. But the final cost of doing both was a C+ in contracts in his first semester. And so the dominance of basketball in Roy's life ended and the law took over, never to yield but for family.
Getting through law school quickly and into the profession became Roy's next priority. Under an accelerated program, he finished law school in 2 ½ years and then met a delay in getting started as a lawyer. He was drafted. There he served for two years as a Special Agent in the Counter Intelligence Corp.,  rising to the rank of Corporal. While in the Army he married Teresa Steele. They had met in law school. Teresa was number one in her class, and upon graduation became an Assistant U.S. Attorney in the Southern District of New York in the office of the legendary J. Edward Lumbard, later to become a Judge on the Second Circuit.
Toward the end of his service in the Army, Roy applied to Simpson Thacher & Bartlett ("ST&B") for an Associate position. He wanted to litigate, without having a full appreciation of what that meant at a firm like ST&B. The firm had less than 100 attorneys and its litigation department was led by Whitney North Seymour, a leading figure of his time in litigation. Unlike today, with its elaborate recruiting staff and a team of lawyers to go with it, the procedure when Roy applied was to be brought to the office of one partner, and there to be visited by every partner who was in the office that day. On the day of Roy's visit, he saw almost every partner in the firm. He met Whitney Seymour, who had already served as President of the City Bar and later became President of the ABA. He also met Cyrus R. Vance who had just become a partner. Vance would soon become General Counsel to the Defense Department, Secretary of the Army, and Assistant Secretary of Defense in the Kennedy/Johnson years, and later Secretary of State in the Carter administration. Whitney and Cy were models of what a lawyer should be and were key to molding Roy's professional life. Roy got the job and has remained with the same firm for 55 years.
Roy found the firm offered young lawyers a great discipline. Every task should produce your best product. That was what the clients who came to the firm expected and that is what they received, whether they were pro bono or paying clients. His standard joke was that the firm never turned the office lights out on its lawyers and associates would get fresh water and sawdust under the door of their offices every morning whether they needed it or not. A great environment for associates to grow in.
It is natural that cases young litigators get to work on tend to shape their choice of a career path. In his second year at ST&B, Roy became deeply involved in such a case. It was a pro bono case, USA v. Vito Genovese et al. involving narcotics conspiracy brought in the Southern District with 19 of the more than 30 defendants going to trial at Foley Square. Roy was appointed to represent one of the indigent defendants. The case was tried for three months. Roy stayed with the case for three years, through several appeals to the Supreme Court. The trial lawyers for the solvent defendants were some of the best and most prominent lawyers of the day, including Edward Bennett Williams. It was a great learning experience for Roy to watch how great lawyers tried a jury case. It was surely the biggest case Roy had been in up to that point and for a long time thereafter everything he did looked small. The experience persuaded Roy he wanted to be a trial lawyer and he never changed his mind.
Roy got his wish when General Motors asked ST&B to assume the defense of all of its product liability cases in the New York area. At that time, Roy was a young partner involved in the handling of commercial litigation, including bank litigation and antitrust and securities cases. Whitney Seymour asked Roy to take on the new GM representation and he assembled a team to handle a huge flow of cases – all jury cases. It was in this period that the litigators at ST&B developed their great respect for the jury system and the ability of a jury to apply its cumulative judgment to consistently return fair verdicts – even for a Fortune 100 company.
Building on a successful record, ST&B went on to represent GM in other types of civil litigation. One such case was State of New York v. General Motors. It became known as the "Engine Switching Case." There GM was charged by the New York Attorney General with consumer misrepresentations (e.g., selling Oldsmobile Division cars with Chevrolet Division engines). Roy handled the case for GM and summarily lost at the trial level and in the Appellate Division, with a lone dissent by Justice Samuel J. Silverman, a superb Judge who had earlier been a partner at Paul Weiss, sufficient to bring it to the Court of Appeals.
While the case was wending its way to the highest court in Albany, Chief Judge Lawrence H. Cooke announced that his Court would televise for the first time one day of arguments so as to examine whether cameras in the court, at least at the appellate level, would in any way interfere with or modify adversely the proceedings. The Engine Switching Case found its way on the calendar for that "one day." The experiment worked, showing that televising the Court's arguments in no way interfered with the proceeding or the dignity of the Court. The Court of Appeals thereafter began to televise all of its arguments and continues to do so. The experiment also worked for GM when the high court reversed the Appellate Division in a 5-2 decision and sent the case back to the trial court for a full hearing. It was the "hottest court" he ever argued before. The argument was later part of a public television show narrated by Professor Charles Nesson of the Harvard Law School Cameras in the Courtroom?
Roy's jury experience proved invaluable in another case he later tried for GTE in the state court in Clearwater Beach, Florida. There, Home Shopping Corporation ("HSC") which sells merchandise nationally to consumers via its television show, sued GTE for $1.5 billion in damages claiming that GTE's telephone system was unable to handle the huge traffic generated by the television show. GTE counterclaimed for trade libel, based on the derogatory statements HSC made about GTE, its local subsidiaries, and employees.
After a three-month trial, the jury returned a verdict denying HSC any recovery. In his summation, Roy told the jury that he did not come down to Clearwater for money, but rather to vindicate the integrity of GTE and its employees. The jury nonetheless awarded GTE $100 million on its counterclaims. The New York Times described the result as an "Elephantine Verdict."
But it was in a pro bono case that Roy achieved his most satisfying result – Casey Martin v. PGA Tour. Casey was a gifted golfer who played on the Stanford team with Tiger Woods. Casey had a congenital condition in one of his legs preventing him from "walking the course" – he needed the use of a golf cart. As a result of this handicap, the PGA denied Casey's request after college to play his way onto the PGA Tour with a cart.
Casey's challenge to the PGA's position was bottomed on the Americans with Disabilities Act (the "Act") that was designed to permit those with disabilities to participate in the cultural, economic, educational, political and social mainstream of America. Casey's basic claim was that the PGA Tour was obligated to accommodate his disability since to do so would not alter the nature of tournament competition and give him a competitive advantage.
Casey won in the trial court. ST&B and Roy entered the case when the PGA Tour appealed to the Ninth Circuit. The Circuit affirmed and the PGA sought and obtained the right to appeal to the Supreme Court. The Supreme Court affirmed (7-2), denying the PGA's argument that permitting Casey to use a cart would fundamentally alter the PGA Tour. The result: Casey could play on the Tour with a cart – a victory for the disabled.
Over the course of his years at ST&B, Roy has been involved in almost every kind of case that is out there. He has won some and lost some. But he has never lost his enthusiasm for his chosen area of the profession and the challenges and excitement it provides every day.
Roy and his wife Teresa had four children and raised them in Nassau County. The children all live in the New York Metropolitan area with their children – eleven grandchildren in all. In 1989, after almost 35 years together Roy lost Teresa to breast cancer.
In 1993, Roy married Patricia M. Hynes, a talented and well-known lawyer. They live happily together in Manhattan.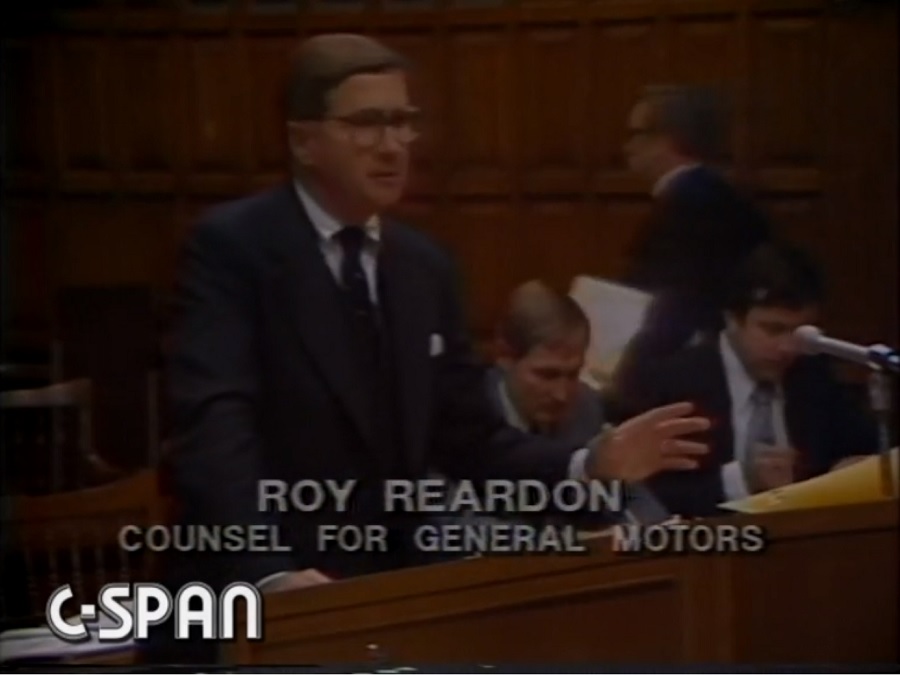 In his oral history, Roy L. Reardon discusses The State of New York v. General Motors and the fact that it was one of the first cases televised by the Court of Appeals. Some of the case's oral arguments were preserved in an 1980 film produced by the New York City Bar Association and available on C-SPAN here.