This blog article was written by Elen Krut, Esq. Elen is a practicing attorney in Staten Island, NY. She graduated with honors from the Elisabeth Haub School of Law at Pace University and was admitted to practice in New York in 2017.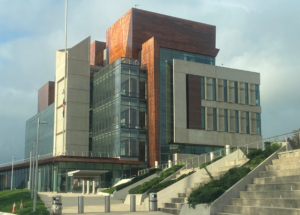 In the beginning of the promising new year, 2020, walking down the St. George area of Staten Island was an adventure for many attorneys. Going between the new 26 Central courthouse, the Hyatt Street support magistrate parts, the infamous 18 Richmond Terrace courthouse, and our small but mighty Family Court was an every-day routine for many. On the way, one would surely expect to meet a familiar face, slow down a bit to have a friendly conversation, stop by the Dunkin Donuts, visit a local grocery store, or get lunch with a colleague at Beso or the Gavel Grill.
However, oftentimes, tragedy comes as an unwanted guest, and in March of 2020, we found ourselves facing the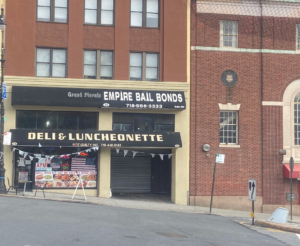 Covid-19 pandemic. Following the stay-at-home orders, we were locked in our houses. Some attorneys were forced to temporarily close their practices; some to work from home; and others were laid off. We all hoped and prayed for those who were battling the virus, as well as those who are out helping people in these shattering times.
One would know that the "stay at home" situation was quite serious when the most frequented St. George local grocery store saddened with an empty gloomy appearance. This local store is called "Not Guilty," and it's ironically and proudly located right across the street from the Criminal Court parts. However, "Not Guilty" was not the only empty place in this otherwise always energetic area. All businesses and offices, our courthouses, deposition office spaces, and everything else that used to make our legal system move forward, were just as empty and lifeless.
But those are the material things, conveniences and tools that we, as attorneys, used daily. What about people? How are our colleagues? How are they holding up? Are they safe? How are they handling this unprecedented situation that no one was ready for? What are their thoughts and experiences? Are they working remotely or not even remotely working?
As always, the most prudent answer is best found by going directly to the source. In the interviews conducted for the Historical Society of the New York Courts' project to record lawyers' response to the pandemic, we explored a variety of topics, including attorneys' personal and professional experiences dealing with the pandemic, how their practice was affected, challenges they faced and had to overcome, as well as success stories, their lessons learned and advices shared. Below are the excerpts from their interviews.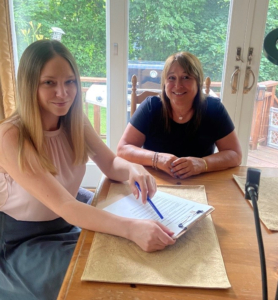 Eve Newman, Solo-Practitioner; Per-Diem Queen — June 20, 2020
"I think it's important not to have a new normal, I think it's important to have normal. As a solo practitioner doing per diem only, I get overflow work from other law firms, and I have no clients of my own. It's now been three months and one week. Not only my work was gone, my whole life was gone. I'm a widow; my husband has passed away, and I'm a sole supporter of the household, and I'm self-employed and courts are closed. So, all of a sudden, the income goes to absolute zero, and it's a frightening thought. I could never have imagined this, it's like something from a horror movie; it's horrible, but you must always save for a rainy day because a rainy day could be something of not of your own doing. From the very start our Richmond County Bar Association has risen to the occasion. We had our annual voting and election via Zoom; the new lawyers' group who did a game night on several occasions, we have cooking and yoga; we are being informed when courts are reopening what stage we are in now, what to expect, electronic filing, etc.
A lot of people are working remotely, but it's a little isolating for people to work from home; people need people, we are social beings. I want this virus to go away, and I'm willing to stick it out, but I'm ready to get back to 'regular normal.'"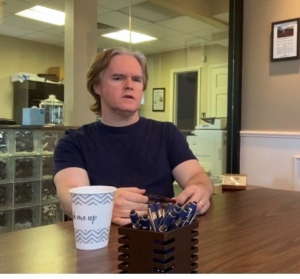 Timothy O'Donovan, Personal Injury Attorney — June 21, 2020
"The biggest take away is that there is loneliness in this, there is monotony. We, as trial lawyers, are social people, and part of what we miss is the social aspect of going to court. Then, three months ago, when the governor issued the stay at home orders, at that particular moment you wonder if you will have a business or practice and how it's going to work. And now you have an immediate impact affecting the volume of cases. And the long-term impact — are people going to stay in the area? Is the population going to reduce?
"The positive of it is that we have become more disciplined and we have the ability to adapt to technology that we didn't necessarily had before. Now everything is Zoom. It's a totally different way of looking at things, I don't think it's a new normal, but it forced us to think in a different way and adapt. This is what I think is a positive aspect. This is the stuff that you can't control, so you have to be able to roll with the punches."
Jay Duskin, Landlord Tennant & Criminal Defense; Immediate Past President of the Richmond County Bar Association — June 24, 2020
"I remember it all starting. A few days before the last day the courts were open, I was getting a sense that this would not work. And then it was the first time when I wasn't getting up to go to court. It went from 60 to 0 really fast; we had essentially no business at all, the flow stopped. My business stopped. Government help was the only help. Solo-practitioners or small partner firms don't have the bank accounts that can afford slow weeks. And this was four months of slow to no work. But you have to stay flexible.
"As President of the Richmond County Bar Association at that time, I realized that people need guidance, and I did my best to step up and communicate. Any directives came out, we put it together and send out. It was a full-time job for a while, but I was in a position to handle it because my other work was not interfering with it. We were focusing on membership, what we can do to help our members at this point, what recourses we have and can provide. My biggest advice would be don't put all your eggs in one basket; always be flexible to reinvent yourself. Try to put away for a rainy day. It is not the easiest thing to do, but make sure you have something to fall back on. Another thing that gives us strength is maintaining our health and our mental wellness. As my father used to say, "You can always go back to work and find something to do and make some money, but if you don't have your health…"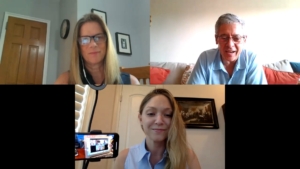 Sheila McGinn, Solo Practitioner & Current President of the Richmond County Bar Association — June 24, 2020
"Before the pandemic, I was in Manhattan frequently, and March 10th was the last time I was in Midtown having a meeting with about 30 people. On that day, I saw the writing on the wall – we as attorneys will have to go adapt to a remote working lifestyle. My biggest change would be working from home and conducting all meetings virtually. It was difficult because I am more of an in-person type of individual and had to adapt quickly.
Now I am the current president of the Richmond County Bar Association, and Jay Duskin, as past president, had set up a framework for me. We are concerned about our colleagues, friends, and their well-being, and I firmly believe that we have to keep reminding our members that we are here for them. This is what our bar association is about — our members. Jay reinvented the presidency to communicate more via technology. He had no choice. As such, I am following that model and utilizing technology to keep in constant contact with our members.
My advice to our colleagues would be to step forward and embrace technology, which will allow us to reinvent our law practices and our careers. More importantly, on behalf of the RCBA we can count on one another and be there to support one another."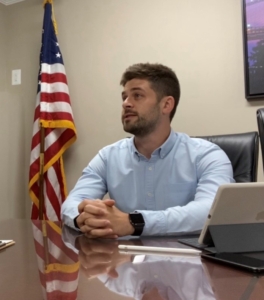 Michael Carbone, Solo-Practitioner General Practice — June 25, 2020
"On May 1st, my law practice turned one. I had posted on social media celebrating the one-year anniversary of my firm, but it was just me, alone. My first-year solo-practitioner experience? Well, it's been wild during the pandemic. It's not what I expected going into my first year. I went into my solo practice starting from scratch and had to find clients. I was on that journey and then everything slowed down and stopped. It was not something I was prepared for. My practice is 100% transactional, and I actually thought I was going to survive this, but before I knew it, my clients started pulling back. The work that I was doing became irrelevant because all businesses were shutting down. By the end of May, I had absolutely nothing. In the future, I see a massive influx of cases, and I hope this will bring attorneys together instead of having a culture of 'opposing counsel.' We are all going through it and trying to figure out how to rise above. It may be a little bit competitive, but we should stick together.
"My advice on how to navigate this complex change is: 1. it's important to embrace the technology. So many industries are headed in that direction, and the pandemic just forced us all into it; and 2. communication is powerful. We need to stick together and stay in contact with one another. I've been fortunate enough to be a part of a legal community that has embraced me. Also, the RCBA communications were essential. I received all of Governor Cuomo's executive orders from the RCBA. There were also cooking lessons and yoga. Did I personally join any of them? No. But they were there to break up the monotony of all the zoom calls. The New Lawyer's Committee game nights were also great. Just having that relationship, like, "we are still here, there is only so much we can do, but we are here" was very helpful. I think we will survive this. This is the wildest time of our lives, and I hope things will turn around. I'm excited to get back to some sense of normalcy."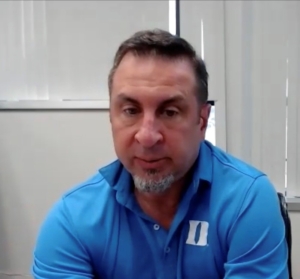 Robert Brown, Criminal Defense, Personal Injury, Foreclosure, Civil Litigation — June 26, 2020
"I recall being in Nassau County court when Governor Cuomo issued the shutdown orders. I recall the courthouse being practically empty with only one or two people wearing masks. The next day, everything was shut down. I wasn't worried about the virus at all and wasn't worried about the practice of law. I made a promise to my employees that no one was going to be let go; I wanted them to be as confident as I was. I also wasn't concerned with the transition at all. Maybe it's my police background because, as a cop, you have to deal with whatever comes your way. I was a lawyer during September 11 and Hurricane Sandy, so there were times when I didn't have access to my office, so it was a pretty easy transition for me and my staff to remote work. Maybe we didn't accomplish everything on our to-do list during the 'pause' because things were closed, but we moved everything along. We were ready to go.
"Also, by far, the RCBA was the most helpful of all the bar associations I belong to. Their ability to get the information out was spectacular. There was never a year like this one in the history of the RCBA. Hopefully, the legal profession will come out of this more efficient than we went into it starting immediately. If you want to limit social interaction in court, they can schedule appearances for a 'time certain' — this way you don't have calendar call. Courts can use a gate keeper to control the calendar so there aren't so many people in the courtroom at once. And, hopefully, what comes out of this is that we make the system better. We use this terrible situation to improve the entire system."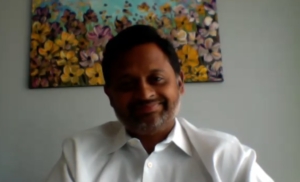 Biju Koshy, solo practitioner Criminal Defense — July 1, 2020
"When it first happened, there was fear, anxiety, and confusion. I tried to put myself in my client's shoes to understand what they were feeling. It's only recently that attorneys were given permission to reopen. We were not deemed essential but, I'd say, in criminal practice, we are. I recall March 13, when I went to court, the courthouse was pretty empty, and that was my last day in court. Since then, it's been video conferencing. For the first few weeks, technology was an issue; the audio was cutting in and out. And it was even more difficult with clients at times. One of my conferences had 15 people involved on a call, and there was a lot of confusion about who was speaking and when. I try the best I can to prep my client for the experience, but it's definitely not ideal. Moving forward, it would be helpful to do status conferences using Zoom, but not when it comes to 15 litigants.
"Luckily, we have a vibrant local legal community. We keep in touch and help each other, pull knowledge together to figure out how to get things done. Also, the RCBA was great about issuing emails with all the updates. You look at all the many orders being issued, and your head can spin. It was so much easier to search for all the updates in your emails sent by the RCBA. The fact that they took their time to compile all these emails… You want a selling point to being a part of the bar association? Well this is it; this was priceless. My advice for handling these changes is to be disciplined. There are practical limitations as to how much work the attorney can get done from home. I definitely recommend setting up your day and setting times for when you should and should not work. As much as we do accomplish work online, it would be great to safely get back to in-person appearances and networking events. It's been a challenge, but we'll move forward with what we've learned."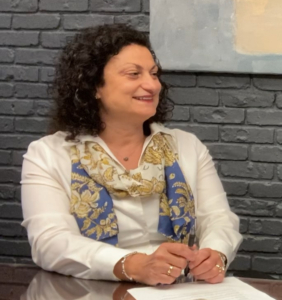 Toni Ann Barone, Real Estate, Estate Planning, Willis, Probate — July 8, 2020
"On March 13, when they started talking about the shutdown. I wasn't sure how it would affect my business. My immediate reaction was 'What am I going to do?' My primary concern was my clients and what was going to happen with their matters. My second concern was about my practice and how will I keep my business moving forward. I wasn't sure what to do at that point. I had to send my staff home and set up remote access, which totally changed my office dynamics. There are so many little things you take for granted, for example, how to use the postage machine and filing out a UPS label. Not having staff in the office was tough, and I had to try to come up with the ways to make things work.
"As a former president of the RCBA and a member, I'd say that the most beneficial aspect of RCBA was the support system, on both an emotional and professional level. Knowing that everyone is dealing with the same thing and that we are all trying to figure out how to move forward together was very helpful. Operating during the pandemic, I found it interesting, how different people deal with different scenarios. I understand that we all have to represent our clients' interest and are doing our best. Some people are very nice and understanding and some people seem to forget empathy and are just not willing to make any accommodations. We can only just take the route that's available to us. One of the most important things is to remember is that this is an unprecedented situation, and even though you and your business are being affected, we are all in this together, so we need to all work together."
Although each interview revealed a personal and unique experience, we kept hearing one common theme: no one was ready for the changes caused by the pandemic — the changes that forced us into a remote lifestyle and a remote work culture. Many are looking forward for this continuous and exclusive "remote" concept to end, as they find "remote" to be dangerously close to "isolated." And having "isolated" as the "new normal" is not a concept that people, as social beings, wish to accept long-term.
Fast forward to the present. We are now in late-August, and we have spent the past six months sorting through the uncertainty, adapting, and trying to do our best under the circumstances. As any other hardship that people had to overcome personally or professionally, living through the pandemic taught a lesson and forced to notice things that were not necessarily obvious in the "old normal." For some, it might be realizing how important their health is and how many people take their good health for granted. For others, it's the growing appreciation of their legal community, connection with their colleagues, coming together and being there for each other, even virtually. Some realize that they need to do a better job with their financial planning, and others come to a conclusion that they need to be more flexible and learn to adapt and embrace the change. And there are those who had their eyes open to the fact that they need to reinvent their practice with an additional area of law.
Looking ahead, we don't know what the following months will bring, when the pandemic will be over, and what the practice of law will look like in the future. We do know, however, that the legal system will move forward, and we will continue to live through this historic time and move forward with it. These interviews housed with the Historical Society of the New York Courts will become a permanent archive of the legal profession's response to this momentous occasion.