1794-1856
Attorney General of New York, 1854-1856
Ogden Hoffman, born on October 13, 1794 in New York City, was the son of the leading attorney Josiah Ogden Hoffman and a descendant of the Dutch colonist Martin Hoffman, who arrived in New Netherland in 1657. His graduation from Columbia College coincided with the outbreak of the War of 1812, and Hoffman joined the U.S. Navy where he served for three years. He was on board the USS President on December 13, 1814 when she attempted to break the British blockade of New York Harbor. The President was intercepted by a British squadron of four warships, forced to surrender, and all those still alive were taken prisoner.
On his return to New York, Ogden Hoffman began his legal studies in his father's law office and was admitted to the bar in 1818. He commenced practice in Goshen, New York, and served as District Attorney of Orange County from May 1823 to January 1826, at which time he took his seat in the New York Assembly representing Orange County. Returning to New York City, he set up a law practice with Hugh Maxwell and, in 1828, represented New York County in the New York State Assembly. From 1829 to 1835, Ogden Hoffman was District Attorney for New York County.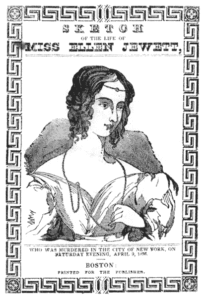 Back in his law practice in 1836, Hoffman was attorney for the defendant in the cause célèbre, the Helen Jewett murder case. Helen, more a courtesan than a prostitute, was found dead in one of the most exclusive brothels in New York City, and is the subject of one of the first legal cases to be featured in inexpensive, lurid pamphlets* popular in the mid-19th century. The trial of her alleged killer became a nationwide sensation. Hoffman's advocacy was successful and his client, 19-year-old Richard P. Robinson, was acquitted.
Elected to the United States Congress, Ogden Hoffman served from March 4, 1837 to March 3, 1841, when he became United States Attorney for the Southern District of New York. In 1854, he was the New York State Attorney General to whom the Governor and the Legislature of New York turned to represent New York's interests in the landmark pre-Civil War legal battle between New York and Virginia, the Lemmon Slave Case. Assisted by Erastus D. Culver, and Chester A. Arthur, Hoffman was counsel for New York during the State of Virginia's appeal to the New York Supreme Court from Judge Elijah Paine's ruling in the habeas corpus petition that resulted in the freeing of the slaves.
He died in New York, on May 1, 1856 at the age of 61, not long before the Lemmon appeal was due to be argued. He is buried in St. Mark's-in-the-Bowery Churchyard in Manhattan.
His son, Ogden Hoffman, Jr., became the first United States federal judge in the newly admitted state of California.
*Cornell University has created a digital archive of these pamphlets, including those on the Jewett murder.
Sources
Resolution. Journal of the Assembly of the State of New York, vol. 78, p 451m (1855)
Myron Holley Clark. A Controversy Pending in our Courts of Law. Messages from the Governors, vol. 4, p 808 (1909)
New York Court of Appeals. Record and Briefs, Lemmon v. People of New York (1860)