1800-1866
Attorney General of New York, 1862-1863
Daniel Stevens Dickinson was born in Goshen, Connecticut, on September 11, 1800. Soon afterward, his family moved to Guilford, Chenango County, New York, where Dickinson attended the local common school and qualified as a teacher. For a time, he worked as a land surveyor, and then commenced his legal studies in the Norwich law office of Lot Clark. Daniel Dickinson was admitted to the bar in 1828 and set up a thriving practice in Guilford, New York.
In 1834, Dickinson became the first president of the City of Binghamton and, during the years 1837 to 1840, represented the Sixth District in the New York Senate. He served as Lieutenant Governor of New York from 1842 to 1844. As holder of that office, he was President of the Court for the Trial of Impeachments and Correction of Errors, authoring many of the opinions of that Court.
In 1844, Governor William C. Bouck appointed Daniel S. Dickinson to the United States Senate to fill the vacancy caused by the resignation of Nathaniel P. Tallmadge. Dickinson was subsequently elected to a full term, and was Chairman of the United States Senate Committee on Finance from 1849 to 1850. While in office, he was an outspoken opponent of the Wilmot Proviso and was a supporter of the Compromise of 1850.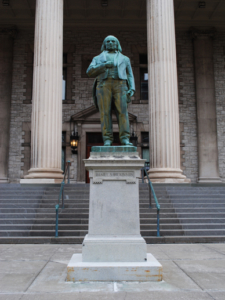 Despite his political allegiances in the United States Senate, Dickinson became one of the most important War Democrats. A gifted orator, he traveled widely in New England and the Middle States delivering speeches in support of the Union. At the 1862 War Ratification Meeting at Cooper Institute, New York, Daniel Dickinson delivered a speech in which he stated:
I have no new light upon the subject of this rebellion or the manner in which it should be treated. I stand today where I stood when Sumter fell—determined to see my country's flag vindicated—to see the supremacy of the constitution established and upheld—to see sovereign law acknowledged—to see rebellion crushed.
Daniel S. Dickinson was elected New York State Attorney General in November 1861 and held office in the years 1862 and 1863.
President Abraham Lincoln appointed Daniel S. Dickinson United States Attorney for the Southern District of New York in 1865.
Dickinson died in office in New York City on April 12, 1866, and was buried in Spring Forest Cemetery, Binghamton, New York.
Sources
Biographical Dictionary of the United States Congress. DICKINSON, Daniel Stevens, (1800-1866).
Speeches, Correspondence, Etc., of the Late Daniel S. Dickinson, of New York: Including: Addresses on Important Public Topics; Speeches in the State and United States Senate, and in Support of the Government during the Rebellion; Correspondence, Private and Political. John Dickinson, ed. (1867).
Daniel Stevens Dickinson (September 11, 1800 – April 12, 1866), Testimonial of Respect of the Bar of New-York, to the Memory of Hon. Daniel S. Dickinson (1866).
Obituary, Hon. Daniel S. Dickinson, New York Times, April 14, 1866.