2015 ANNUAL GALA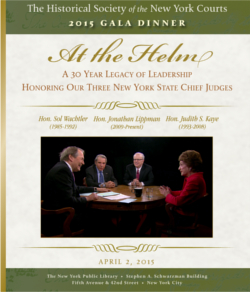 AT THE HELM
A 30 Year Legacy of Leadership
Honoring the Chief Judges of the State of New York
Sol Wachtler (1985-1992)
Judith S. Kaye (1993-2008)
Jonathan Lippman (2009-2015)
New York Public Library
In 2015 the Society was proud to honor the accomplishments of New York's three Chief Judges: Wachtler, Kaye & Lippman at our Annual Gala. Since Judge Wachtler took the office in 1985 the New York courts have become national leaders in the administration of justice and have seen innovation in areas as diverse as the Commercial Division, the Problem-Solving Courts and increased emphasis on human rights.
The 2015 Gala honored these three leaders of the bench and featured a conversation between them and Charlie Rose in which they considered their legacy, contributions and the role of the Chief Judge in the legal system of New York. That film is available below.
2015 Gala Film
For this event honoring the State's three most recent Chief Judges: Jonathan Lippman, Judith S. Kaye and Sol Wachtler, we asked the Judges to sit down with Charlie Rose for a conversation on their lives, careers and judicial philosophy.