2014 ANNUAL GALA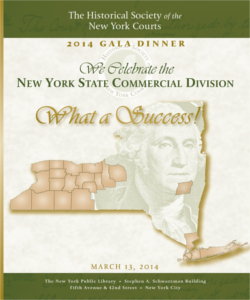 WE CELEBRATE THE NEW YORK STATE COMMERCIAL DIVISION
What a Success!
New York Public Library
One of the most important developments in the recent history of the New York courts, the Commercial Division has provided a venue for resolving complex business disputes in the state. After two decades, the Society recognized the Division & the people who helped it succeed at our most recent Gala.
2014 Gala Film
For the 2014 Gala the Society produced a film looking back at the first 20 years of the Commercial Division, featuring interviews with judges & attorneys who had been involved with its development.