Celebrate Diversity Month — Honoring Judge Jane Bolin
April is Celebrate Diversity Month, and we plan to focus much of our outreach around this theme. Our lens will showcase diversity in the New York courts.
We're kicking this month off with Hon. Jane Bolin and featuring a blog article written by Board member David L. Goodwin and the Young Lawyers Committee program Commemorating Hon. Jane Bolin. The program was spearheaded by David and produced in partnership with Yale Law School's Yale Black Law Students Association and Yale Law Women. We thank Trustee Hon. Dianne T. Renwick for participating on that panel.
Judge Bolin was the first Black woman judge in the United States when New York City Mayor Fiorello La Guardia appointed her to the Domestic Relations Court in 1939. She was also the first Black woman to graduate from Yale Law School, join the New York City Bar, and work in the Corporation Counsel office, among other firsts. She continued to serve the court admirably until her retirement 40 years later, and serves as an inspiration for many who followed in her footsteps. Learn more about Judge Bolin from the program and the blog!
Watch: Commemorating Hon. Jane Bolin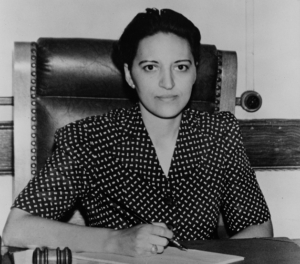 Share your favorite program on diversity with us, and it may be featured next! Use the hashtag #CommonThreadsOfJustice on social media.