The Honorable Joan B. Carey served as Administrative Judge of Supreme Court, Civil Branch, New York County in 2009.
Judge Carey was born in Brooklyn, New York. In 1961, she graduated from St. Joseph's College and worked for a time as a social worker and public school teacher. In 1966, she graduated from New York Law School.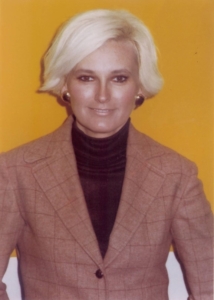 Judge Carey's career as a lawyer began in 1968, when she became an Assistant District Attorney in Queens County. She later served in Queens County as  Deputy Chief of the Homicide Investigations Bureau and Attorney- in-Charge of the Narcotics Bureau, the Supreme Court Trial Bureau, and the Rackets and Investigations Bureau. Upon leaving the Queens District Attorney's Office, Judge Carey was appointed Special Attorney General in charge of the boroughs of Brooklyn and Staten Island and supervised the investigation and prosecution of cases of corruption in the criminal justice system.
In 1978, Judge Carey was appointed to the New York City Criminal Court, commencing her judicial duties in the Criminal Court in Queens County. Such were her administrative gifts that she quickly began what became a long and distinguished career as a court administrator. Only one year later, she became Supervising Judge of the Criminal Court, New York County. In 1983 she was named a Supreme Court Jus- tice by Designation and was assigned to the Supreme Court, Criminal Term, New York County.
Four years later, in 1987, Judge Carey was appointed a Judge of the Court of Claims. In 1993, she was named Administrative Judge of the Supreme Court, Criminal Term, New York County. After almost two years in that position, she was, in 1995, appointed Administrative Judge of the New York City Criminal Court. Later, in 1996, she assumed one of the leading administrative positions in the New York State court system when she became Deputy Chief Administrative Judge of all the courts in New York City. In 2009 she was appointed Administrative Judge of the Supreme Court, Civil Branch, New York County.
While serving in these very demanding administrative positions, Judge Carey continued to pre- side over active trial parts on both the criminal and civil sides. During her tenure as Deputy Chief Administrative Judge of the New York City Courts and as Administrative Judge of the Civil Branch of New York County Supreme Court, for instance, she managed a very busy medical malpractice Part in New York County, presiding regularly over her large inventory of such cases, including presiding over trials. Leading by example is always admirable, and Judge Carey did exactly that. Judge Carey's career in our courts coincided with the career of former Chief Administrative Judge Jonathan Lippman, who was to become Presiding Justice of the Appellate Division, First Department and then Chief Judge of the New York State Court of Appeals; Judge Carey and Judge Lippman worked closely and successfully together throughout their important careers in court administration.
As Administrative Judge of the Supreme Court, Civil Branch, New York during the last year of her very distinguished judicial career, Judge Carey was enormously supportive of the justices and staff of our court, and she was a tireless proponent of measures to improve the effectiveness and efficiency our court, just as she had always been for the wider New York State court system. She soon became very conversant with the large and varied inventory of our court and she ensured that all matters, including those pending in specialized parts, such as matrimonial, malpractice, guardianship, and Commercial Division, received the careful, serious attention they of course deserved. As a seasoned administrator, Judge Carey worked very closely with our justices and department heads in promoting a sense of immediacy throughout the courthouse and in the process maintained longstanding profession- al and personal relationships with judges and staff and established many new such relationships. Her own work ethic was exemplary and no detail seemed too small for her careful attention. Maintaining standards and goals within the framework of our differentiated case management protocol was among her highest priorities.
Judge Carey demonstrated great interest in preserving our historic, landmark New York County Courthouse at 60 Centre Street. She personally championed – recruiting judicial colleagues in the mix – refurbishing both the 6th floor waiting area and the 7th floor conference room. Fresh paint was added, new furniture was provided, and new and impressive chandeliers were installed, which enhanced dramatically both areas of the building. In the 7th floor conference room she arranged for the removal of bookshelves and plasterboard which had long concealed original oak paneling and columns. These enhancements are appreciated and enjoyed to this day.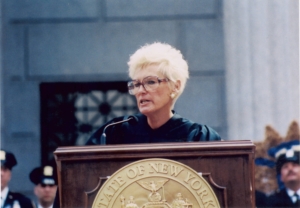 Judge Carey's tenure as our Administrative Judge coincided with the beginning of the Great Recession of 2008 and 2009, which wreaked such havoc on both the private and public sectors, including among our courts. Her discipline and direction prepared us for the very difficult years that were to follow her tenure in our court. A remarkably accomplished court administrator and a wise  and productive jurist, Judge Carey remains celebrated for her impressive moral compass, her personal integrity, and her many contributions to the improvement of the state of the Unified Court System generally and of our court specifically.