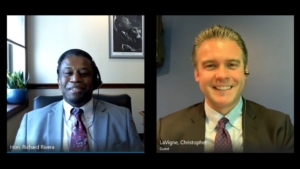 Watch the Interview
Hon. Richard Rivera was elected to a 10-year term in the Albany County Family Court in November 2014. Since taking the bench, Judge Rivera has presided over all matters and even conducted his first wedding ceremony completely in Spanish. As of February 27, 2017, Judge Rivera was appointed to preside over the newly created Domestic Violence Part at the Albany County Family Court. Judge Rivera presides over the Albany County Youth Part since its creation in 2018 pursuant to the Raise the Age legislation. Effective January 1, 2019 Judge Rivera was designated Acting Supreme Court Justice for the 3rd Judicial District and was named as the first supervising judge for domestic violence courts and mentor courts in the district.
Judge Rivera is a graduate of Colgate University and Albany Law School. His legal career began as an associate counsel for the Law Office of Gaspar M. Castillo, Esq., where he represented litigants in local city and town courts, handling criminal matters, traffic violations and appeals. It wasn't until he became staff counsel for the Albany Law School, Family Violence Clinic that his career in Family Court began. As staff counsel, Judge Rivera represented victims of domestic violence with all matters pertaining to orders of protection, custody, and support. Judge Rivera also served as an Attorney for Children in both Albany and Rensselaer counties; Assistant Conflict  Defender representing litigants in family and criminal courts; Assistant County Attorney, prosecuting Juvenile Delinquents and PINS and as a Support Magistrate.
Christopher N. LaVigne is Partner in litigation and arbitration at Withers LLP. He earned his J.D. from Fordham University School of Law and his B.A. from SUNY Geneseo.