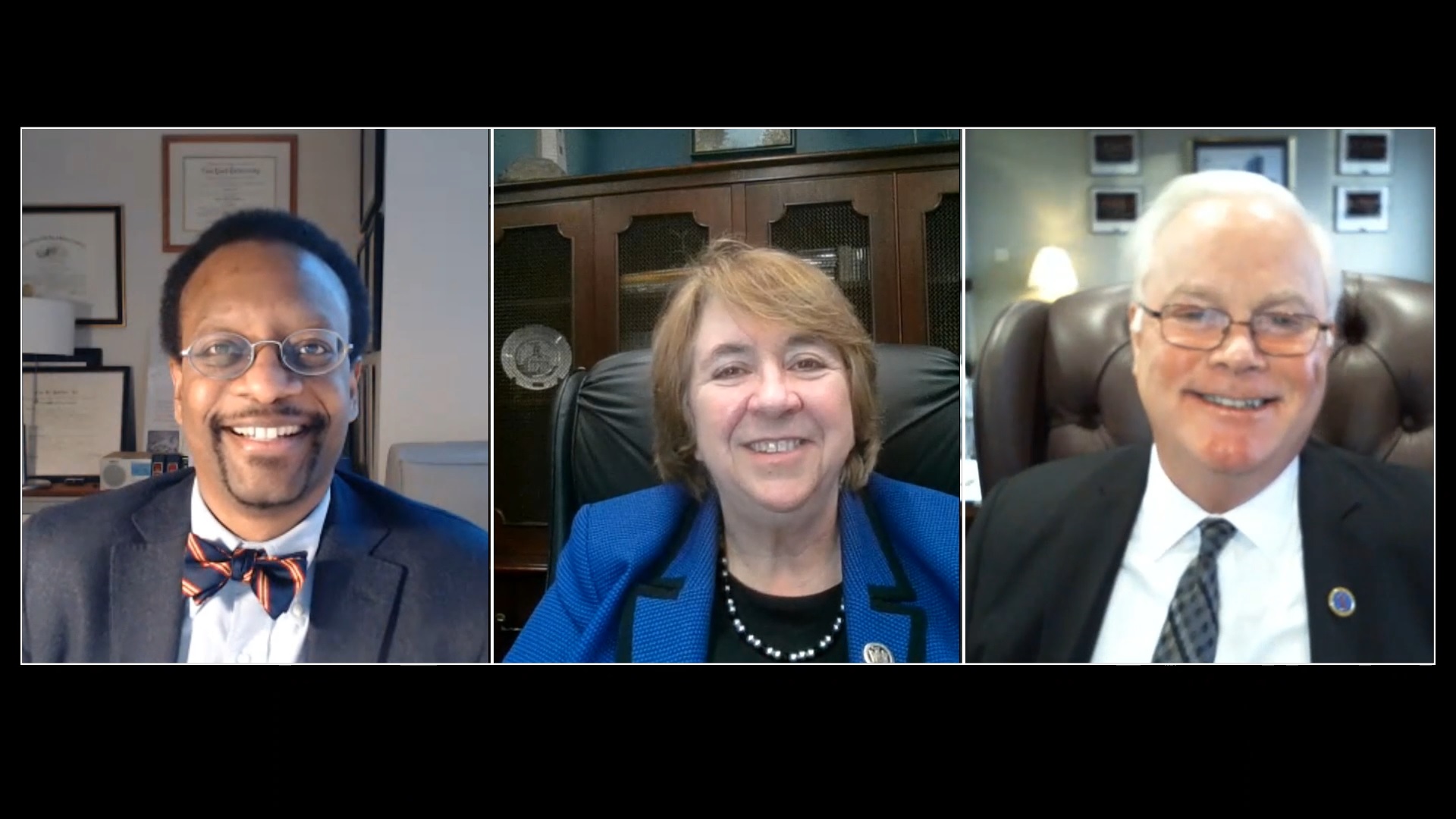 Watch the Interview
Hon. Elizabeth A. Garry  was appointed by Governor Andrew Cuomo as the 16th Presiding Justice of the Third Department on January 1, 2018; she had been appointed to the Third Department effective March 19, 2009. She was first elected to serve as Supreme Court Justice for the Sixth Judicial District in 2006, and has now been reelected this year, in 2020. She had previously been twice elected and served as Town Justice in the Town of New Berlin from 2002 through 2006.
Presiding Justice Garry graduated from Alfred University and Albany Law School, with honors. She began her legal career as Confidential Law Clerk to the Honorable Irad S. Ingraham, Justice of the Supreme Court, from 1990 to 1994. Presiding Justice Garry subsequently engaged in private practice with the Joyce Law Firm in Central New York
and served on the Planning Board for the Town of New Berlin in Chenango County.
Presiding Justice Garry is a past Co-Chair and current Commissioner of the Richard C. Failla LGBTQ Commission of the New York Courts. She is a founding member of the Del-Chen-O Chapter of the Women's Bar Association of the State of New York, and has served on various other boards, community organizations and professional associations.
Hon. Gerald J. Whalen was designated by Governor Andrew M. Cuomo to the Appellate Division, Fourth Department on October 1, 2012, and as Presiding Justice of the Court on January 7, 2016. He is a graduate of Canisius College where he earned his Bachelor of Arts degree in 1979. He earned his Juris Doctor degree in 1983 from the State University of New York at Buffalo. Justice Whalen was elected New York State Supreme Court Justice in 2005 for a term of fourteen years serving in the Eighth Judicial District. He was awarded the Trial Justice of the Year award by the New York State Trial Lawyers Association, Western New York Regional Affiliate in 2012.
Prior to taking the bench, Justice Whalen was a litigation partner with Hiscock & Barclay, LLP. He served on the firm's Diversity Committee and was the firm's Associate and Hiring partner for the Buffalo office. Justice Whalen was in private practice for 21 years, handling complex civil and criminal cases before taking the bench. He was also an adjunct professor at Canisius College and was a member of the Canisius Pre-Law Advisory Committee from October 2006 to July 2014. For twenty-five years, Justice Whalen was a member of the Judge John J. Hillery Memorial Scholarship Foundation, which provides scholarships for students in need, and was the Hillery Foundation's Man of the Year in 1997. Justice Whalen was elected and served as President of the Supreme Court Justices Association, Eighth Judicial District, in 2012. He also served as Chair of the Bar Association of Erie County Judges' Committee in 2011 and 2012. From February 2002 to October 2012, Justice Whalen served on the Fourth Department, Eighth Judicial District Committee on Character and Fitness. Justice Whalen has also lectured at SUNY Buffalo on Constitutional Law and is a frequent lecturer at New York State and local bar association events.
Prof. Troy A. McKenzie is Professor of Law at New York University School of Law. His research and teaching interests include bankruptcy, civil procedure, complex litigation, and the federal courts. He studies litigation and the institutions that shape it—particularly complex litigation that is resolved through the class action, bankruptcy, and other forms of aggregation. He serves as a faculty co-director of two NYU centers: the Institute of Judicial Administration and the Center on Civil Justice. He is also a member of the National Bankruptcy Conference and the Council of the American Law Institute.
From 2011-2015, McKenzie served, by appointment of the Chief Justice, as a reporter to the Advisory Committee on Bankruptcy Rules of the Judicial Conference of the United States. From 2015-2017, he took a leave of absence from NYU to serve in the U.S. Department of Justice as a Deputy Assistant Attorney General for the Office of Legal Counsel.
McKenzie earned a bachelor's degree in chemical engineering in 1997 from Princeton University and a law degree in 2000 from NYU, where he was an executive editor of the Law Review and a member of the Order of the Coif. After law school, he served as a law clerk to Judge Pierre N. Leval of the U.S. Court of Appeals for the Second Circuit and Justice John Paul Stevens of the Supreme Court of the United States. Before joining the NYU faculty in 2007, McKenzie was a litigation associate at Debevoise & Plimpton in New York.