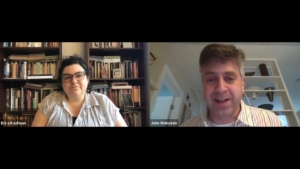 This episode was recorded on June 29, 2020 and features two of the Society's education partners discussing the importance of civics education in this day and age.
Director of Bard College Institute for Writing and Thinking Dr. Erica Kaufman and Dean of Bard Early Colleges John Weinstein discuss the teacher and student initiatives we partner together to produce, including teacher workshops, the Harlem Law Program, and the Judith S. Kaye Teaching Fellowship, and the rich resources the Society provides. Erica and John also discuss lessons learned during the movement to remote teaching, and what they think is in store for the future.
Listen on your favorite podcast carrier!