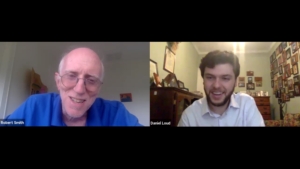 This episode was recorded on June 29, 2020 and features an interesting discussion about Chancellor James Kent with a retired Judge of the NYS Court of Appeals and a Columbia Law School student.
Host Daniel F. Loud, a student at Columbia Law School, chats with Hon. Robert S. Smith, retired judge of the New York Court of Appeals, head of the appellate practice at Friedman Kaplan Seiler & Adelman LLP, and former professor at both Columbia Law School and the Benjamin N. Cardozo School of Law, about his article in the Society's journal Judicial Notice about Chancellor James Kent, one of New York's first notable judges and the author of the Commentaries on American Law. They delve into Chancellor Kent's views on judging, the body of "American law" that developed after American independence, and what a judge's role should be in changing the law. Along the way, Judge Smith also offers his views on the same issues and how judging has changed since Chancellor Kent's time nearly two centuries ago.
This podcast is a part of our series Chatting with the Authors of Judicial Notice. For more episodes, please visit the series page. 
Listen on your favorite podcast carrier!