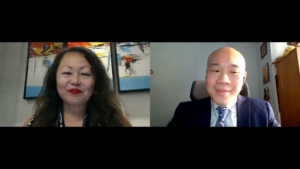 This episode was recorded on May 12, 2020 with a pioneering Asian American judge for Asian Pacific Islander American Heritage Month.
Host Jacob Y. Chen, Partner at Dai & Associates, P.C., talks with Hon. Doris Ling-Cohan, a justice of the New York State Supreme Court currently assigned to the Appellate Term, First Department, about her experience as a pioneering Asian American judge in New York, and the challenges — and flat out racism — she faced on the road to and during her judgeship. Justice Ling-Cohan recounts remarkable and inspiring anecdotes from her career and offers insight on what's next for the Asian American community in the legal profession.
 Audio
Listen on your favorite podcast carrier!