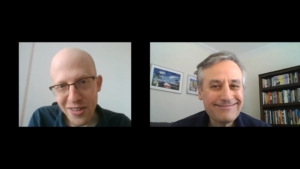 This episode was recorded on May 8, 2020 as a part of our Chatting with the Authors series, which brings new depth to our Judicial Notice archives.
Host David L. Goodwin, staff attorney at Appellate Advocates, chats with Robert Pigott, general counsel of Phipps Houses, about his Judicial Notice profiles of Elihu Root and William M. Evarts, both national figures and prominent New York lawyers—one mostly remembered (Root) and one largely forgotten (Evarts). A native New Yorker himself, Bob discusses the spark that ignited his interest in history, and examines how we can learn a lot about larger-than-life figures through New York City real estate.
This podcast is a part of our series Chatting with the Authors of Judicial Notice. For more episodes, please visit the series page. 
 Audio
Listen on your favorite podcast carrier!