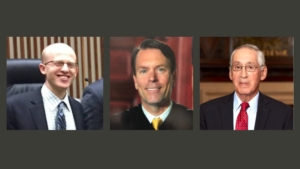 This episode was recorded on April 16, 2020 as a part of our Chatting with the Authors series, which brings new depth to our Judicial Notice archives.
Before he was a Founding Father, Framer, Justice, or international diplomat, John Jay spent seven years in the trenches as one of New York's few practicing lawyers—appearing in court, collecting on debts, and working with clients. Host David L. Goodwin, Staff Attorney at Appellate Advocates, talks with Hon. Mark C. Dillon, Associate Justice of the NYS Supreme Court Appellate Division, Second Department, and Paul D. Rheingold, Esq., Founder of and Of Counsel at Rheingold Giuffra Ruffo & Plotkin LLP, about John Jay's early years, and how they influenced his role as a Justice and statesman.
This podcast is a part of our series Chatting with the Authors of Judicial Notice. For more episodes, please visit the series page. 
 Audio
Listen on your favorite podcast carrier!