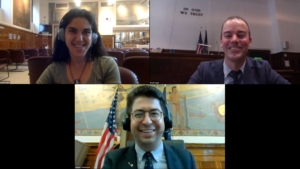 This episode was recorded on October 15, 2021 and features a conversation on George McAneny's influence in NYC.
In this episode, attorney and urbanist Adrian Untermyer discusses George McAneny's sprawling legal legacy with historian Lucie Levine and preservationist Brad Vogel, Esq. George McAneny is sometimes called "the most influential New Yorker you never heard of." Over decades of civic activism, McAneny had an incalculable impact on planning, zoning, and preservation laws in New York and across the nation. And through his various leadership posts, McAneny can claim responsibility for helping to build the New York County Courthouse, Foley Square, and many other landmarks across Gotham.
For more information on George McAneny or to get involved with ongoing attempts to honor his legacy, please visit www.georgemcaneny.com. This podcast was produced by the Historical Society of the New York Courts in partnership with the New York Preservation Archive Project, the Friends of George McAneny, Archive on Parade, and the Hon. Milton Tingling, New York County Clerk.
Lucie Levine is an author, historian, and founder of educational tour company Archive on Parade. To learn more, visit www.archiveonparade.com.
Adrian Untermyer is an attorney, urbanist, and historian who fights for stronger cities and communities. To learn more, visit www.adrianuntermyer.com.
Brad Vogel is an attorney, poet, and Executive Director of the New York Preservation Archive Project. To learn more, visit www.bjvogel.com.
Audio
Video
Listen on your favorite podcast carrier!