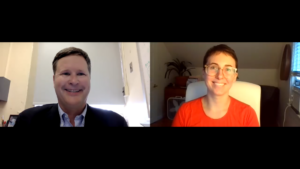 This episode was recorded on July 1, 2021 and features a discussion on the Society's Judith S. Kaye Teaching Fellowship at Bard High School Early College.
Host William H. Hinrichs chats with the Historical Society of the New York Courts' most recent Judith S. Kaye Teaching Fellow Lauren DesRosiers on her experience teaching the course American Immigration and New York State to high schoolers in the Queens and Lower East Side BHSEC campuses. Bill and Lauren discuss the unique aspect of this partnership of teaching legal history and civics through the Society's grant at BHSEC, the challenges of online teaching, how history can help us understand the current anti-Asian hate and violence around the country, and most important of all, the students that participated in this elective course. Bill H. Hinrichs is the Dean of Academic Life at Bard Early Colleges, and Lauren DesRosiers is a practicing immigration attorney, focusing on helping queer and trans immigrants seeking humanitarian relief.
This podcast is a part of our series Distance Teaching During the Pandemic. For more episodes, please visit the series page. 
Listen on your favorite podcast carrier!