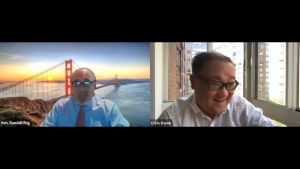 This episode was recorded on May 7, 2021 and features a conversation with the first Asian American judge in New York State.
Chris Kwok talks with Hon. Randall T. Eng about his remarkable life and career, marked by a series of firsts for the Asian American community. They reminisce about Judge Eng's early days in Queens and China, how he became interested in the law, his rise in the legal profession to become the first Asian American Judge in all of New York State, and his years after retiring from the bench. The conversation juxtaposes his incredible achievements against the backdrop of increased anti-Asian hate and violence around the country. Mr. Kwok is a Mediator and Arbitrator at JAMS and a Board Member of the Asian American Bar Association of New York. Judge Eng is currently Of Counsel at Meyer Suozzi English & Klein P.C. and the former Presiding Justice of the Appellate Division, Second Department. He is also Trustee Emeritus of the Society's Board of Trustees.
Audio
Video
Listen on your favorite podcast carrier!