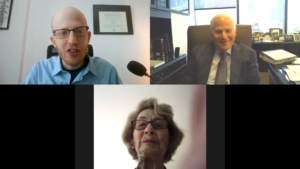 This episode was recorded on August 26, 2020 and features a discussion on appellate panel composition in the NY courts, with host David L. Goodwin, Society Trustee.
In the United States Supreme Court, it's nine. In the United States Courts of Appeals, it's three. And in New York's Appellate Division, Second Department it's . . . four? Presiding Justice Alan D. Scheinkman talks about his article, adapted for Judicial Notice, which explores how the four-Justice appellate panel became the norm in the Second Department — and, briefly, in the First as well — and shares his thoughts on managing what is often called the busiest appellate court in the country. Justice Helen Freedman, Judicial Notice Editor in Chief, joins the discussion with insight on the First Department's practices.
This podcast is a part of our series Chatting with the Authors of Judicial Notice. For more episodes, please visit the series page. 
Listen on your favorite podcast carrier!