The Steps of Writing An Essay
The Garfinkel Essay Scholarship is all about creating an essay that answers one of the questions below, using evidence and good writing to support your argument. There are many different ways to write a good essay, from drawing on your personal experiences to researching specific examples, but they are all tied together by an emphasis on using evidence to support everything you say.
There are no shortcuts to this — good research, good writing, and support from your professors and fellow students are the only ways to craft a strong essay, but there are approaches and tools that will make this process easier.
Here, you can find some resources and tools that you can use to help write your essay. To write a great one, you will have to branch out from these resources to answer questions in your own unique way, but this should provide a starting point. Just select the stage of the writing process you are currently at and get to work!
You, the Voter
How Far Have We Come? Is the Journey Over?
QUESTION 1
WINNING THE RIGHT TO VOTE
Trace how voting, once the privilege of the elite, became the right of all citizens. Discuss the American journey to "one person, one vote" or focus on how a specific group or groups of Americans won the vote.
QUESTION 2
BARRIERS TO VOTING
Are some state legislatures limiting "one person, one vote" by passing laws that act as barriers that make voting difficult for some citizens?
QUESTION 3
ELECTION DISTRICT BOUNDARIES
How do state legislatures enhance or diminish the principle of "one person, one vote" by redrawing voting districts? Is there a better way?
Picking a topic might seem like the easiest part of this process, but that doesn't mean it should be taken lightly. You shouldn't just look at what seems interesting to you, but also what you have to say about a topic and what you already know about a subject. In general, think about the questions on the right when picking a topic.
DOES THIS INTEREST ME?
Writing about something that you want to write about will make the topic engaging.
DO I HAVE AN ARGUMENT?
A good essay will make a strong argument; do you have strong feelings about the question one way or another?
WHAT DO I ALREADY KNOW ABOUT THIS?
Do you have any experience or knowledge of the topic? If you don't, don't be afraid to do some early research to see if you're actually interested in the topic.
There are many ways to research a question: starting broadly and narrowing down to look at specific questions; following the course of one argument before exploring another; or starting with a specific idea and studying the other ideas that come from that. Overall, it's up to you to pursue what makes the most sense.
What we want to encourage is you to take advantage of all the resources available. Our Resources page offers a great deal of information that can be use to anyone writing an essay, but there is so much more out there. Use the resources below as a starting point, but don't forget to look elsewhere.
YOUR PROFESSOR
Your professors will be able to work with you throughout the semester to develop your essays. Ask them for general ideas or to review the work you've done so far and offer advice.
YOUR LIBRARIAN
The library at your college is a great resource, both for the books there and the help the librarians can provide! Don't be afraid to ask them for help with research, helping students is the best part of their jobs.
ARTICLES
Academic journals have a huge number of articles on these topics. Ask your librarian what databases your school has, and how you can access them. We always recommend JSTOR as a starting point.
NEWSPAPERS
Newspapers don't just report today's news. Their archives can go back decades and provide a look at what people were writing and thinking in the past.
CASES & LAWS
Opinions by judges and new laws relate to many of these concepts. Looking at these writings can give insight into exactly why these laws were changed.
YOU
And don't forget yourself! If you have a personal experience you want to share, don't be afraid to use it to inform your other sources.
Watch Society staff and Trustees discus how to make your essay stand out to scholarship judges during this 2015 visit to Hudson Valley Community College!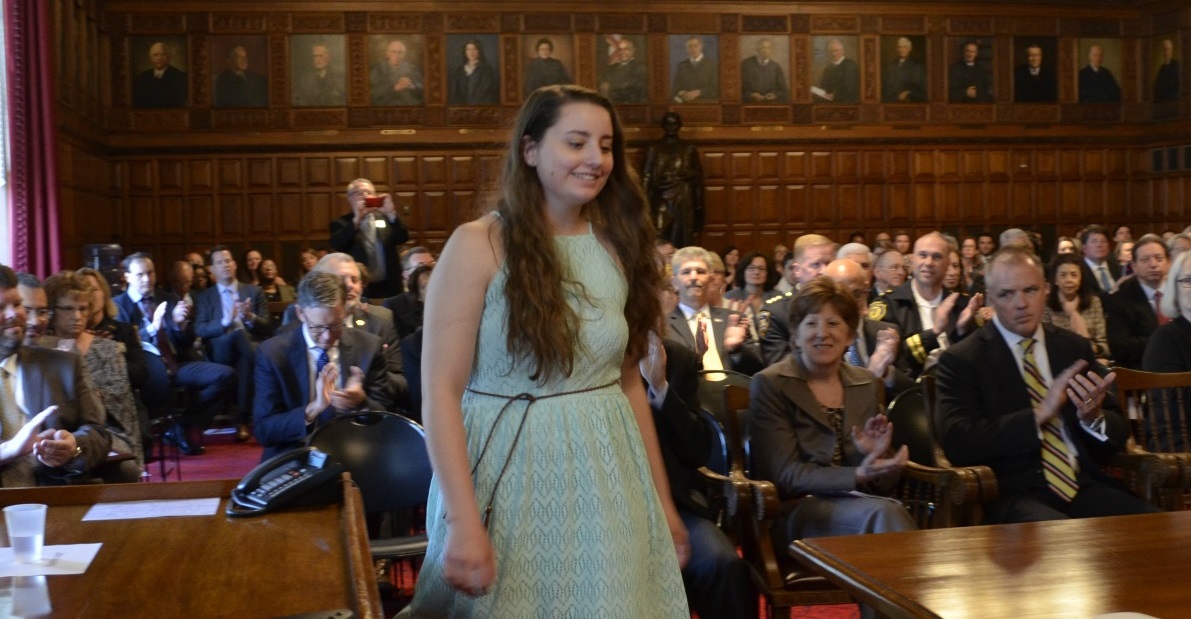 Writing an essay for the Garfinkel Essay Scholarship is much like any other essay you've written before. Relying on solid evidence, writing clearly to make your point and citing your sources are all important factors. But this is a legal essay, and that entails a slightly different approach than you might be used to. So here are some tips on how to write a great essay for the contest!
BE CONCISE
The people who review these essays are all attorneys, and legal writing emphasizes being able to make an argument quickly and effectively. So give your evidence, say why it is important, and what you think and move on. Remember, the max length of the essay is 5,500 words. That might seem long but it can run out quickly when you're discussing a lot of sources!
BE CLEAR
Don't forget to include a strong introduction and conclusion in your essay. These sections will help frame your essay and make what you're saying that much more clear to our reviewers.
USE YOUR SOURCES
It is one thing to read a source and use that knowledge to support your argument. It is another to cite that source directly to prove you are using it. Our reviewers look for evidence that supports your argument so be sure to make that clear!
CITE YOUR SOURCES
As you use your sources, be sure to keep track of them and reference them as you write so that you can include them on a "works cited" page or add them as references to your text. This is key to showing your understanding of the topic (NOTE: We do not require any specific format for references and citations).
STICK TO YOUR STYLE
Everyone has their own writing style, and don't be afraid to use it. Some of the best essays we've received have been very personal (See this 2011 essay written by a NYFD member for a great example).
USE QUOTES 
Sometimes using a quote is far more effective than paraphrasing ideas in your essay. Just make sure to cite the quotation and clearly indicate that it is one!
STICK TO YOUR ARGUMENT 
With broad topics, it can be easy to try to discuss many different things in your essay. Stay focused on answering the question you have selected. This will be easier to do and result in a more convincing essay.
DON'T PLAGIARIZE! 
We probably don't have to tell you, but don't copy or borrow from any of your sources without citing them! Plagiarism is strictly forbidden and will result in the immediate removal of your essay from consideration for any prizes without notification. Plagiarism can be intentional or unintentional, so check with us, your professor, or a librarian if you are unsure. Better safe than sorry!
Professors teaching Business Law, Criminal Law, or Introduction to Paralegal Studies at Bronx Community College will select essays for submission to the Historical Society of the New York Courts for consideration in the 2020 David A. Garfinkel Essay Scholarship. That's it! You will be contacted by the Historical Society of the New York Courts if you have won a prize.
The David A. Garfinkel Essay Scholarship is generously supported by Gloria and Barry Garfinkel in memory of their son David. Their support has enabled the Society to offer this scholarship since 2008.