Richmond County Courthouse Centennial: Its History, Cases, and Place in the Civic Life of Staten Island
November 15, 2019 @ 2:00 pm

-

4:00 pm

EST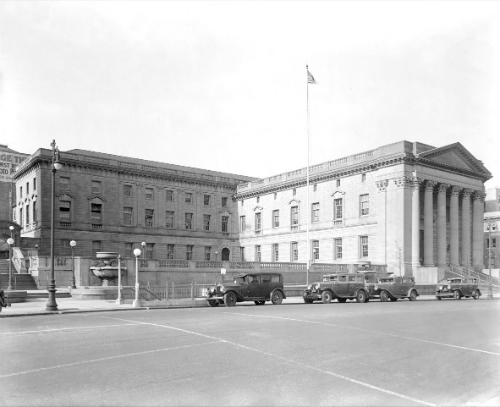 Richmond County Courthouse at 18 Richmond Terrace, January 26, 1938. Courtesy NYC Municipal Archives.
Richmond County Surrogate's Court —

18 Richmond Terrace, Staten Island
HSoftheNYCourts Joins Richmond County Courthouse Centennial Celebrations!
As part of the Richmond County Courthouse Centennial celebrations, the HSoftheNYCourts presented a program with speaker presentations examining the history of this majestic building and the importance of courthouse architecture in the civic life of New York past and present. The second part of the program was a panel of judges and lawyers looking back at notable cases litigated in its courtroom.
Sponsored by Richmond County Bar Association
Program
Introduction
John Peter Sipp, Esq., Chair of the Surrogate's Court Committee, Richmond County Bar Association
Welcome
Stephen P. Younger, Esq., Chair of the Board of Trustees, HSoftheNYCourts and Partner, Patterson Belknap Webb & Tyler LLP
Historical Presentations
Robert Pigott, Esq., Vice President & General Counsel, Phipps Houses
Jon Ritter, Clinical Associate Professor, New York University
Panel Discussion
Moderated by John Peter Sipp, Esq.
Hon. Stephen J. Fiala, Richmond County Clerk
Hon. Desmond A. Green, Administrative Judge, Supreme Court, Richmond County
Hon. Daniel Leddy, Former Judge, Family Court, Richmond County and Resident Historian
Hon. Judith Reeves McMahon, Justice, Supreme Court, Richmond County
Hon. Matthew J. Titone, Surrogate, Surrogate's Court, Richmond County
Watch the Program Video