Art Restitution: Fair and Just Solutions?
May 23, 2019 @ 6:30 pm

-

8:00 pm

EDT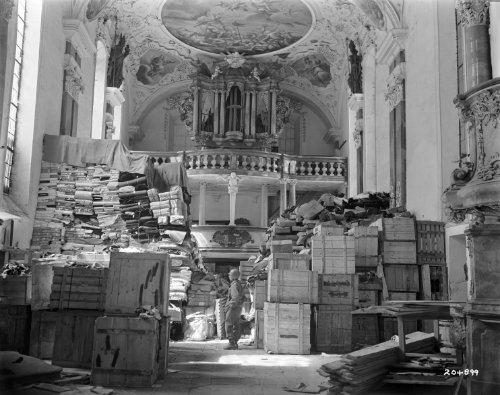 German looted art stored at Schlosskirche Ellingen (Bavaria), Germany, found by troops of the U.S. Third Army
New York City Bar Association
PROGRAM
This program brought together Hon. John M. Walker, Jr. , U.S. Circuit Judge, U.S. Court of Appeals for the Second Circuit, as panel moderator with prominent attorneys in the field of art restitution to discuss the direction of court decisions. Panelists included Raymond J. Dowd, Partner at Dunnington Bartholow & Miller LLP, Lawrence M. Kaye, Partner at Herrick Feinstein LLP, and William Pearlstein, Partner at Pearlstein McCullough & Lederman LLP. We were also pleased to have Dr. Sharon Flescher, Executive Director of the International Foundation for Art Research (IFAR), and Monica Dugot, International Director of Restitution at Christie's, look back to the Nazi stolen art era and forward on the broadening of the definition of looted and stolen art.
Watch the Program Video
Restitution and the Art Market
Nazi Art Looting: Fair & Just Solutions?
Holocaust Art Restitution in the US: Swing of the Pendulum
Art Restitution & Antiquities
Art Restitution: Fair and Just Solutions? — Panel Discussion
Art Restitution: Fair and Just Solutions? — Q&A