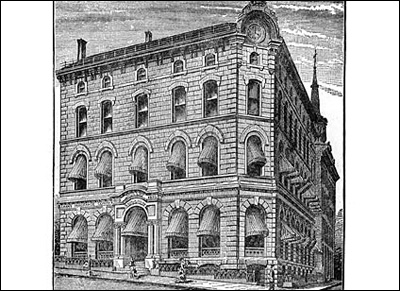 State Street and Chapel, Albany, NY
It was erected by the Albany Savings Bank, which entered it May 11, 1875; county bought it in 1898, and commenced alterations when the bank removed to its new edifice on No. Pearl St., April 25, 1899.
On State Street, corner of Chapel. Purchased by the county in 1895 from the Albany Savings Bank, and adapted for the use of the Appellate Division of the Supreme Court, Third Department (1896-1916), for the Chambers of one of the Justices of the Supreme Court, and of the County Judge, and for the Surrogate's Court and some of the County offices.
Source: Alden Chester, Legal and Judicial History of New York, vol. III, pg. 39.