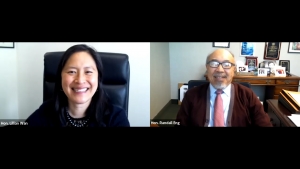 This episode was recorded on April 23, 2021,  and features two NYS judges discussing the lack of Asian American representation in leadership in the New York judiciary and public office.
Hon. Randall T. Eng and Hon. Lillian Wan share their personal experiences as Asian American judges overcoming challenges, and provide advice to Asian American attorneys on how they too can bridge the gap. Judge Wan is a Kings County Supreme Court Civil Term Judge and member of the Society's Board of Trustees. Judge Eng is former Presiding Justice of the Appellate Division, Second Department, and currently Of Counsel at Meyer Suozzi English & Klein P.C. He is also Trustee Emeritus of the Society's Board of Trustees.
Audio
Video
Listen on your favorite podcast carrier!