1801-1872
William Henry Seward was born in Florida, New York on May 16, 1801. He was educated at the Farmers' Hall Academy in Goshen, New York, and then attended Union College, from which he graduated in 1920 with highest honors. He studied law with John Anthon in New York and with John Duer and Ogden Hoffman in Goshen, New York and was admitted to the New York bar in Utica, New York in 1822. Seward commenced the practice of law as the junior partner of Elijah Miller, then first judge of Cayuga County.
Seward's brilliance was quickly recognized and, in 1830, he was elected to the New York State Senate. At that time, the Senate formed part of the Court for the Correction of Errors, the court of last resort, and Seward regularly authored opinions on cases before it — for example, Parks v. Jackson (11 Wend. 442).
Elected Governor of New York in 1838, Seward served two terms (1839-1843) and soon became recognized as the leader of the anti-slavery wing of the Whig party. Both as a State senator and as Governor, Seward promoted progressive political policies including prison reform and increased spending on education.
Returning to private practice, William Seward was involved in several high profile cases. In 1845, he represented the defendants in the New York Tribune libel case, J. Fenimore Cooper v. Greeley & McElrath, and in 1847, he courageously undertook the defense of William Freeman, a young black man who had confessed to randomly murdering a white family of four, including a two-year-old child (People v. Freeman).
Elected to the United States Senate in 1849, and reelected in 1855, Seward was a leading anti-slavery politician. He was the front-runner for the Republican presidential nomination in 1860, but his anti-slavery speeches were considered too radical to win over the voters in critical swing states, and the nomination went to Abraham Lincoln. On March 5, 1861, President Lincoln appointed Seward to the office of Secretary of State. He was continued in that office by President Andrew Johnson, and served until March 4, 1869.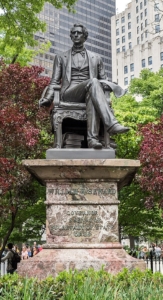 As Secretary of State, Seward negotiated the Lyons-Seward Treaty of 1862, an international agreement to eradicate the Atlantic slave trade. During the Civil War, Seward undertook the vital tasks of ensuring that the British government stopped British shipyards from building war ships for the Confederacy and persuading the French and British not to recognize the Confederate states as an independent nation. In this, Seward succeeded so well that he became a target of the conspiracy that assassinated President Lincoln. Fortunately, Seward survived the attack, but endured poor health for the remainder of his life.
Seward was an advocate of the Monroe Doctrine and, in 1867, had the satisfaction of successfully concluding negotiations with Emperor Napoleon III for the withdrawal of French troops from Mexico, and with Russia for the purchase of Alaska.
Despite his ill health, Seward took a trip around the world in his retirement. He died in Auburn on October 10, 1872. A magnificent statue was installed in Madison Square Park, New York City in his honor.
Sources
"Legal Obituary." 6 Albany Law Journal 279.
Office of the Historian, Bureau of Public Affairs, United States Department of State. Biography of William Henry Seward.